Body Snatchers
(1993)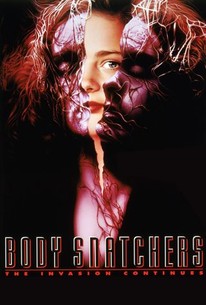 Movie Info
Abel Ferrara's Body Snatchers is the third screen version of Jack Finney's cold war science fiction novel Invasion of the Body Snatchers. Marty Malone (Gabrielle Anwar) is moving with her father, stepmother, and stepbrother to a military base where her father will investigate possible environmental and ecological problems. Before they get to town, Marty is warned in a gas station restroom by a crazed looking military man that, "They get you when you sleep!" Marty adjusts to life on the base by flirting with a young officer and making friends with the rebellious daughter of the base commander. These friends help her when a plot by aliens to turn all humans into unemotional, unfeeling "pod people" shifts into high gear. As her family and friends are attacked, Marty doesn't know who to trust. Previous versions of his story were directed by Don Siegel (1956) and Phillip Kaufman (1978). ~ Perry Seibert, Rovi
People Who Like this movie also like
News & Interviews for Body Snatchers
Critic Reviews for Body Snatchers
Audience Reviews for Body Snatchers
½
The most indelible aspects of the manifold adaptations of 'Body Snatchers' have been the sociopolitical subtexts behind them. The ephemeral, quite arch 1993 rendition focuses on the emotional repression of the military establishment and EPA-regulated environmental safeguards. The concept of Meg Tilly being the stepmother is another example of a surrogate for an authority figure. There are a few deliciously sinister scenes liberally sprinkled throughout the film including a disquieting sequence where an entire classroom draws the same amorphous painting except for the solitary non-pod person and the Vulcan logic that "it's the race that's important, not the individual". Abel Ferrara vainly enhances the claustrophobic atmosphere with Dutch angles but this is the umpteenth iteration of this tale and his style-over-substance sensibility is no consolation. On a sidenote, the bellowing shrieks of the pod people might've been terrifying decades ago, but they are incredibly dated and cartoonish nowadays (especially the horrendously superimposed CGI of a screamer plummeting from a helicopter).
Cory Taylor
Super Reviewer
½
It's been a while since i saw this one, Ferrara's direction is great, the sense of tension was very well build. My problem was the very anti-climatic ending. Might need a rewatch.
Tsubaki Sanjuro
Super Reviewer
½
I threw this on expecting shitty, disposable horror, something to serve as background noise while I thought about my life or whatever. To my surprise I actually found myself very involved - this is a sleek, beautifully filmed thriller that obviously earned a poor reputation following in the footsteps of its (overrated) predecessor. By no means is it perfect, especially when Abel Ferrara found himself confronted by a low budget and chose not to work around his problems, but through him. This leads to some laughably bad special effects issues, especially one spoilerrific occasion toward the very end of the film. A potentially horrifying final note instead becomes risible. He mostly knows how to work with his shortcomings but there are times when less could well have been more. The performances are a mixed bag. Meg Tilly, in a minimal role, manages to be surprisingly effective, though I wonder about that final monologue of hers. Her delivery is interesting; I don't know if it was an instance of the actress trying to sound haunting and profound and failing, or a confused pseudo-human trying to do the same. No way to tell, I guess. Gabrielle Anwar is functional and it's amusing to see her so young, before the Sci-Fi channel kidnapped her and forced her to do 80 TV movies about fish demons. Her character is a bit sullen but it's easy to forget that every 17 year old, including yourself, once was. The dad and boyfriend are both lousy, and the six-year-old pretty much gives a six-year-old performance. Forest Whitaker, in a two-scene cameo, is amusingly overdone. I couldn't imagine someone this hammy going on to win an Oscar fifteen years later (for a similarly overdone performance). Good news for Ben Foster, I suppose. Where Body Snatchers regains lost ground is some surprisingly effective visual work. Abel Ferrara, given a project that doubtlessly amounted to little more than cheap popcorn fare, instead opted to turn it into something cinematographically striking. His command of lighting and mise-en-scene lend a certain menace to every scene, even the peaceful ones; characters are often framed off-center and night is hued with an offputting white light. Just as this environment feels alien to young Marti, so too does it look alien to a viewer. Shots that may have been throwaways for other directors - Meg Tilly throwing a suspicious garbage bag away, a kid's game in the woods, a network of tendrils crawling through the vent - suddenly become vivid and memorable. It's clear that Ferrara has a lot of respect for and knowledge of his craft. Anyway, this seems to be largely dismissed as trash horror, and that's a shame. It's not a gem of unparalleled quality or anything, but it dances with some interesting themes like ostracization and the feeling of being "transplanted," both in a human and supernatural sense. In only 87 minutes, Ferrara presents a complete (if not thin) narrative and a thematic structure, tied neatly together with some great aesthetic work and inventive scares. If you're looking for underseen 90s horror, or feel like compulsively watching all the Body Snatchers remakes, this is a great stop.
Drew Smith
Super Reviewer
Body Snatchers Quotes
There are no approved quotes yet for this movie.
Discussion Forum
Discuss Body Snatchers on our Movie forum!