Body Weapon
(1999)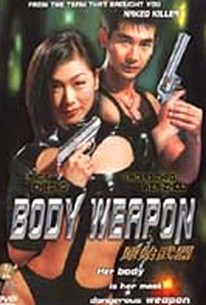 AUDIENCE SCORE
Critic Consensus: No consensus yet.
Movie Info
Rating:
NR
Genre:
Directed By:
On DVD:
Runtime:
Critic Reviews for Body Weapon
There are no critic reviews yet for Body Weapon. Keep checking Rotten Tomatoes for updates!
Audience Reviews for Body Weapon
Umm....okay? This is...this is one of the weirdest films I've ever seen. And I've seen a lot of weird shit. It is a revenge film? A harrowing drama about the effects of rape on a victim? A drama about unrequited love? Is it a comedy? Is it a partial drama about the struggles of being gay? Is it a partial home invasion/horror film? I don't have a fucking clue. I really don't. However, I can say with confidence that I'm pretty sure Body Weapon doesn't have a fucking clue, either. That being said, I still had a lot of fun watching this bizarre, trashy Hong Kong film, albeit with some rather conflicting emotions occurring while I watched it due to its jarring tonal shifts. The film opens with a brutal gang attacking and raping a young couple in a car, before killing them. This gang has been going around and terrorizing people, putting extra pressure on the police to solve these crimes before the gang strikes again. However, the police department seems to be compiled of slackers, and three officers in particular find themselves caught in a love triangle, which is interfering not only in police matters (Which includes an embarrassing front page article with a picture of the sexy female officer reprimanding some boys for being peeping toms while wearing a provocative outfit), but also the investigation into the gang rapes and murders. However, the sexy officer eventually marries one of the men, much to the chagrin of the other officer (He's the best friend of the other officer), though he puts up with it with a great deal of lovesick sadness hidden away, wishing he had made the move first. However, he continues to train for the fighting tournament with an instructor who seems to have a crush on him. However, on their wedding night, the couple is attacked by the gang. The groom is murdered, while the bride is raped and beaten. However, she lives, but not without severe emotional and physical trauma (Which also leaves her with an STD from one of her rapists). She is left a broken woman, while the other male officer tries to provide some comfort. However, she decides to get back at her attackers. And with the help of a random gay man who has the talents to seduce any man he wants (And for a stiff price to watch each of his training videos), she learns to use her body to track down and kill the people responsible, with her fellow officer and admirer tagging along. The storyline is tonally confusing in every way, which leads to rather conflicting emotions for the viewer as they try to process whether they are supposed to feel sadness, laugh, or be horrified. I've never had this happen as much as it did with Body Weapon. That being said, the story, despite being tonally confusing, is still very interesting to follow into the depths of utter insanity. The acting can be rather corny, but I did legitimately enjoy the performance by Angie Cheong as she actually managed to convey a variety of emotions on a genuine level. She also does a great job during scenes where her character is in the throes of the aftermath of the rape and the mental and physical effects. Her performance is probably the only legitimately good performance in the entire film, while her fellow cast members are just plain corny, but corny in a fun, weird way. One thing's for certain, this film definitely isn't boring. It's got drama, it's got action, it's got trashy fun, it has weird love story elements, and it also has moments of funny humor. There's a lot going on, and all of it is completely insane and weird. This is a film only for people who can put up with strange, trashy, and obscure films. Unless you're into watching these sort of films, this will not be to your liking. But, if you're up for something strange, Body Weapon will give you that and then some.
Keenan Sullivan
Body Weapon Quotes
There are no approved quotes yet for this movie.