Bog
(1983)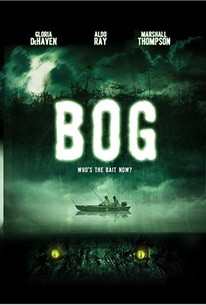 AUDIENCE SCORE
Critic Consensus: No consensus yet.
Movie Info
A few hikers discover a ferocious, freshly thawed, man-eating monster as they trek through the wilderness.
Rating:
PG
Genre:
Directed By:
Written By:
In Theaters:
On DVD:
Runtime:
Studio:
Prism Entertainment
Critic Reviews for Bog
All Critics (0) | Fresh (0) | Rotten (0)
The creature is obviously of the rubber-suit variety, and there's also a godawful kissing montage with a geriatric couple. Boo-rah.
Audience Reviews for Bog
Bad Movie This is a bad movie. It was made in the late 1970's but wasn't released to theaters until 1983 and put out to video in 1984. There are four professional actors and a bunch of local amateurs in this Wisconsin made movie. Most of the movie is just people wandering around in the woods next to a lake or cars driving around on country roads. They barely show the "Monster" and it's just a tall guy in a fish suit. The dialog makes no sense and the acting is very bad. The four star actors just recite their lines with almost no emotion. They are old too. The love scene with two old folks is dull. Although the movie is bad, it's not so bad that it's funny. It's just boring.
Donald White
Bog is the story of a large aquatic like monster that has long been dormant underneath the bog of a popular fishing lake. After a poacher awakens the monster after using dynamite in the lake, the monster goes around amassing an incredibly large body count of people where it sucks the blood right out of their mouth. It's up to a couple of biologists (including then-big time TV star Gloria DeHaven) along with the late great Aldo Ray (fun, frequent horror genre actor who most recently inspired Quentin Tarantino to name Brad Pitt's character as in Inglorious Bastards) as the town's Sheriff to track this monster down and kill it, but that proves easier said than done since this sucker won't die. Bog is a laughable, horribly bad movie, folks. It's a good thing the Bog monster suit was shown VERY minimally because of how crappy and fake it looks. The biggest upset is the huge body count, where ALL of the kills happen off camera. Aldo Ray is fun to watch but his character seems completely wasted, as do just about everyone else. For an 80's grindhouse monster movie, this one is the pits. Bad editing, bad effects, bad acting, terrible continuity, and the transfer to DVD looks just awful (like they barely rushed it to DVD before the negatives could completely dissolve). At least it had some pretty comical moments (some intentional, but most of them unintentional). Horrible movie!
Jason Duron
this was by far one of the worst movies I've ever seen. it was was so bad that i nearly died laughing because i could not believe that this was a serious film. Please dont waste your time.
Alexandra Hatch
Bog Quotes
There are no approved quotes yet for this movie.