Boku wa imôto ni koi o suru (My Sister, My Love)
(2007)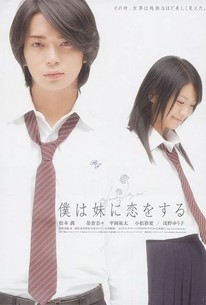 AUDIENCE SCORE
Critic Consensus: No consensus yet.
Critic Reviews for Boku wa imôto ni koi o suru (My Sister, My Love)
There are no critic reviews yet for Boku wa imôto ni koi o suru (My Sister, My Love). Keep checking Rotten Tomatoes for updates!
Audience Reviews for Boku wa imôto ni koi o suru (My Sister, My Love)
The title says it all. Japanese drama and unconventional romance and yes its slow moving with more meaningful glances than you can shake a stick at, and a bit soppy too, but very likeable all the same.
Beautifully underplayed and explored in a mature and realistic fashion. The relationship between brother and sister is never displayed as wrong nor right, making this an honest film which the audience can perceive in their own ways. Most will find it slow, as many will not be able to appreciate the quiet decay of something both beautiful and destructive. These quiet moments are for us to think and feel as the film progresses, an empty or closed mind will not serve this film well. Most scenes are made up of 1-3 characters discussing the events, but in a subtle and dark way. The smallest moments can have the most dramatic impact. The mother discovering a bed that's not been slept in. The smile as Yori watches Iku etc. Wonderful moments and a wonderful movie.
Luke Baldock
Super Reviewer
Forget what you've heard before about what this story is about. This story is about a love that is doomed in every respect, but even so is still so deep that it can not be denied. Due to a painfully beautiful ending I can not give this movie higher praises. Upon a second viewing all the almost unbearable slowness makes sense and is actually appreciated. The acting once thought hollow now seems only reserved emotions. I recommend that if you can bare the initial slowness to give this movie a chance and hopefully you will come away with a deeper understanding of what love is and can be. Ironically, this was an extremely moving film with the least amount of actual movement I have seen in a very long time.
Steven Vincent Gee
Super Reviewer
Boku wa imôto ni koi o suru (My Sister, My Love) Quotes
There are no approved quotes yet for this movie.