The Bold Caballero
(1936)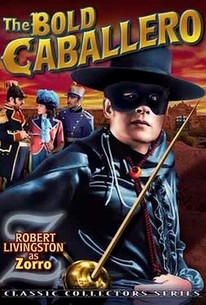 AUDIENCE SCORE
Critic Consensus: No consensus yet.
The Bold Caballero Photos
Movie Info
The Bold Caballero, Republic Pictures' first color film, was also the first talkie version of the "Zorro" legend (as originally set down by Johnston McCulley in The Curse of Capistrano). Robert Livingston essays the dual role of foppish Spanish-Californian aristocrat Don Diego, who when the necessity arises dons the mask and black cape of righter-of-wrongs Zorro. As usual, the Z-man spends his time defending the California peasantry from the wicked machinations of the corrupt, quasi-fascistic commandante (Sig Rumann), who has murdered the provincial governor and shifted the blame to Zorro. The film contains such marvelous set-pieces as Diego's advice to the leering commandante as to how to romance the fair Isabella (Heather Angel), and a bizarre "drag" scene in which the hero disguises himself as the heroine's duenna. Alas, current prints of The Bold Caballero are available only in black and white.
Rating:
NR
Genre:
, ,
Directed By:
Written By:
In Theaters:
On DVD:
Runtime:
Studio:
Republic
Critic Reviews for The Bold Caballero
There are no critic reviews yet for The Bold Caballero. Keep checking Rotten Tomatoes for updates!
Audience Reviews for The Bold Caballero
½
This is the worst Zorro movie I've seen yet. While it is not unwatchable, it is certainly not riveting, and I wish that it had been one of those films featuring some descendant far removed from the original Zorro, rather than drag Don Diego's good name into this dismal affair. The use of Don Diego behind the mask has, up to this point, always been a guarantee of a good Zorro story. All it takes is one exception to void that guarantee, and sadly, this is it. While this movie, much to my despair, has the distinction of being the first Zorro adventure of the talkie era, Zorro himself, ironically, never speaks. Another big selling point at the initial release must have been that it was a rare color film of the time, featuring the old two-strip color process, though by Magnacolor, not Technicolor. Regardless, it has survived only in black and white form, and so does not even bear that novelty for us. Zorro's disguise here is not so much a mask as a hood, and not so much a hood as a knotted cloth draped sloppily over his head with two eye holes cut out. He looks a black clad cousin of the killer from The Town That Dreaded Sundown. Also despite complaints of Zorro's lack of screen time in the later production starring Tyrone Power, he is seen even less in this version. There are only a couple of sword fights, both featuring Don Diego, first in his own clothing, then at the end in a dress, having traded clothes with an old woman to escape jail and nearly resulting in the woman's being hung. There is only one real villain here, the commandante, and he is an idiot, as well as fat and clumsy, so there is little tension. The story revolves around Zorro having been framed for the murder of the new governor. You, see, Don Diego was going to out the crooked commandante to the governor, making California a nice place to live again, so the commandante strikes down two birds at once. I don't usually like to spoil the endings, but let me do a favor here for all of you wondering how Zorro clears his name. First Don Diego proves that he can be just as stupid as the commandante, by revealing his true identity to the governor's daughter, who he has fallen in love with, even knowing that she has sworn revenge against Zorro for the death of her father. After it's too late, and all looks darkest, he finally points out to her that he, the real Zorro, always marks his Z's properly, whereas the fat idiot who killed her father carved the Z backwards. Of course by this point they're both in jail, so who cares what she thinks. As I said, it's not unwatchable, by my standards, but I have a lot of patience for books and movies, so I can't in good conscience recommend this one to anybody else. View at your own risk, althought it's only slightly over an hour, so at least you're not losing much.
Paul Savell
The Bold Caballero Quotes
There are no approved quotes yet for this movie.
Discussion Forum
Discuss The Bold Caballero on our Movie forum!