Bone
(1972)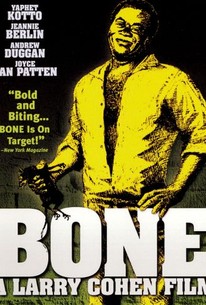 Movie Info
When their lavish home is invaded by a violent and unstable black criminal, a high-living white Beverly Hills couple is forced to confront their worst nightmares in filmmaker Larry Cohen's satirical black comedy. Famous car dealer Bill (Andrew Duggan) and his wife, Bernadette (Joyce Van Patten), go through the motions of their mundane day-to-day existence while coasting on a fragile web of lies and tentative affection. When Bill discovers a rat in the filter of his pool, he is frozen with fear until Bone (Yaphet Kotto) mysteriously appears and removes the threatening vermin. Their gratitude is short-lived when Bone forces his way into their posh home with the intention of raping Bernadette and making off with a tidy sum. However, when he discovers some questionable discrepancies with their financial records, Bill is forced to make a trip to the bank to make a withdrawal while Bone and Bernadette await his return -- but Bone warns that he will not hesitate to kill Bernadette if Bill doesn't return in due time. Their transparent façade forever shattered, captor and captive form an unusual bond while Bone's meal ticket opts for an ominous change of plan that he believes will rid him of excess baggage while also drawing a substantial profit.
Rating:
R
Genre:
, ,
Directed By:
Written By:
In Theaters:
On DVD:
Runtime:
Studio:
News & Interviews for Bone
Audience Reviews for Bone
BONE is a totally wacked out 70s faux sunny satirical noir from the ever demented mind of my fave Larry Cohen. It's DOUBLE INDEMNITY on acid. It will leave you laughing, shocked and shaken. Just like a good film should.
Michael Lupetin
½
This offensive but effective 60's 'black' comedy sinks its teeth into issues of race, class, and gender with plenty of skill and also contains Yaphet Kotto's best acting work.
Gordon Briggs
Before Larry Cohen wrote and directed such groundbreaking and exploitative fare like Gold Told Me To, Q: The Winged Serpent, or It's Alive, he made his auspicious debut about a rich, yuppie Beverly Hills couple (Andrew Duggan and Joyce Van Patten in startlingly good roles) whose day is rudely interrupted by the brutish and intimidating black man named Bone (dare I say an Oscar-worthy performance from Yaphet Kotto?) whose thought to be an exterminator when he strangles and removes a live rat from their pool, but is actually a ruthless burglar/rapist who has targeted this couple. I could be wrong, but the viewer is supposed to sympathize with the married couple (who are each ruthless and just as corrupted in their own small ways) and hate Bone, when in all actuality, all 3 characters are quite unlikable, but you are driven to them and you can't turn away from their actions (which are generally surprising when given the circumstances they are all in). There is also a terrific performance from a woman named Jeannie Berlin who plays The Girl, a woman the husband runs into and befriends while he's supposed to be out emptying his bank account while Bone holds his wife hostage. Berlin damn near steals the entire movie away with her oddball and somewhat unnecessary performance. All of the film's tension and suspense leads towards an unbelievable ending that is brutally honest and tragically humorous, especially given the times we live in in terms of race relations. Power and sometimes absurd black comedy, and an excellent debut from Cohen.
Jason Duron
Bone Quotes
There are no approved quotes yet for this movie.