Bonsái
(2012)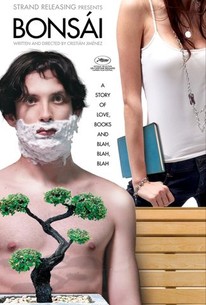 Movie Info
Julio is a struggling young writer who has hit a wall. Unemployed and involved in a half-hearted relationship with his neighbor, things are finally starting to look up when he gets an interview with a renowned author to transcribe his latest work. Things don't go as planned, however, and Julio doesn't get the job. Instead of admitting the truth to his girlfriend, he pretends to be transcribing the novel when actually writing his own story. Searching for inspiration and a plot, Julio revisits a romance he had eight years ago when studying literature in Valdivia. As Julio's novel progresses, so does his fondness for the past and of the love he let slip away. Based on an internationally acclaimed novella, Bonsái is a subtly affecting examination of the lies we tell ourselves in order to get by. -- (C) Strand
News & Interviews for Bonsái
Critic Reviews for Bonsái
Audience Reviews for Bonsái
½
In "Bonsai," a group of university students spend the night together at a friend's house where they all pair off. That leaves Julio(Diego Noguera) looking for company which he finds with Emilia(Nathalia Galgani). Of the two, he is the first one to take off his trendy T-shirt, revealing the worst sunburn lines in history. After they become a couple, he also helps her move in with her friend Barbara(Gabriela Arancibia). (At some point in the future, Emilia will die and Julio will be alone.) Eight years later, Julio is working a series of odd jobs that includes word processing for Gazmuri(Hugo Medina), a noted author. Except he finds that somebody can do the job cheaper. That does not stop Julio from continuing with the job, concocting his own manuscript, while carrying on with his neighbor Blanca(Trinidad Gonzalez), an interpreter. Armed with a sardonic wit, "Bonsai" is a thoughtful movie about revisiting the past through creative writing, by posing some intriguing questions. Is it ever too late to reclaim what was lost? Or maybe there was no hope in the first place. For Julio, this line of thought arises when he is meeting someone new, as he also remembers his first introduction to the writing of Proust who had his own second thoughts.(Before a showing of the movie of "Time Regained," the speaker asked the audience if we had all read Proust, like in this movie. I hadn't) But with any difficult literature, maybe Julio is not experienced enough to comprehend it well at a time when he was taking a lot for granted. Remember, just because you are smart, does not mean you know everything.
Bonsái Quotes
There are no approved quotes yet for this movie.
Discussion Forum
Discuss Bonsái on our Movie forum!