The Boogens
(1982)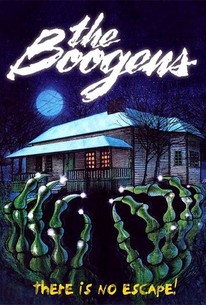 Movie Info
This spooky horror film is set in an abandoned southwestern silver mine. It was closed in the early 1900s after it suddenly caved in. Now engineers begin re-exploring the mine in hopes of reopening it. This proves to be a big mistake because it is inhabited by terrifying monsters.
Critic Reviews for The Boogens
Audience Reviews for The Boogens
½
Sorry to say but between 'C.H.U.D.' and 'The Boogens', the sewer-dwelling creatures are more gratifying than their mine-dwelling doppelgangers. 'The Boogens' is a regurgitated, fairly pedestrian slice-and-dice B-movie where Tiger, a Bichon Frise canine, is the most competent actor in the ensemble. His double-takes during a romantic tryst are priceless. To our chagrin though, the majority of the film is the repetitive stalking-the-prey POV shots from the roaring insects (whose rubbery snapping-turtle design is only glimpsed at occasionally due to an infinitesimal budget) and false scares. In fact, perhaps due to money constraints, the scale is too cramped and small for any truly terrifying stakes. It doesn't feel like a potential epidemic. Aside from a tavern scene, the townspeople are scarce and never exposed to the Boogens' rampage. 'C.H.U.D.' may not have been revolutionary for the subgenre but it enriched more character depth and climactic dread that the gingerly paced 'The Boogens'.
Cory Taylor
Super Reviewer
½
The Boogens isn't completely devoid of charm. At least it has some strong characters going for it. Even the sex mad ladies man character, is portrayed with a lot of heart and little annoyance. The build is far too slow. I enjoy a bit of tension, but if your monsters look like ridiculous puppets in the final reel, at least showcase them early. Only so many tentacle attacks I can stomach. It's also quite repeptitive with just two locations, and the dog sniffing out danger gets about 4 separate scenes. Could do worse, but the slowness is a test of patience.
Luke Baldock
Super Reviewer
Oh wow. Last time I saw movie was back 1982 cable. I enjoyed this crazy movie, with it's hideous monsters in an underground hiding area that attacks it's victims when they are alone! It was amusing. Wouldn't mind adding it to my horror movie collection on dvd. ;)
Donna Dawson
Super Reviewer
The Boogens Quotes
There are no approved quotes yet for this movie.