Boogeymen
(2001)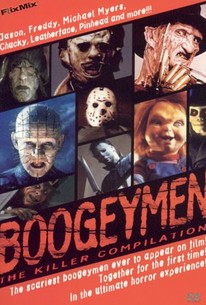 AUDIENCE SCORE
Critic Consensus: No consensus yet.
Movie Info
Boogeymen: The Killer Compilation brings together highlights from 18 different horror films. Some of the beloved bad guys featured in the film include Chucky from Child's Play, Hannibal Lecter from The Silence of the Lambs, Pinhead from the Hellraiser films, and the ever popular Freddie from the Nightmare on Elm Street series. Genre enthusiasts will enjoy this retrospective. This film would make an interesting double feature with Terror in the Aisles, a compilation of horror film scenes released in the early '80s.
Critic Reviews for Boogeymen
All Critics (3) | Fresh (2) | Rotten (1) | DVD (3)
At the very least, this compilation may turn a few sane people on to slasher movies, and I consider that a good thing indeed.
October 22, 2001 | Rating: 60/100
An interesting release -- even if it is just a novelty.
August 25, 2001 | Rating: 3/5
Audience Reviews for Boogeymen
This is a compilation of the scariest boogeymen in horror. While some the choices here are not scary at all, such as Leprechaun and Chucky and the fisherman and ghost face; this is a cool compilation. Among the scariest boogeymen featured on this DVD, there's Pinhead, Freddy Krueger, Leatherface, Candyman, The Tall man, Norman Bates, Jason Voorhees and last but certainly not least; Michael Myers. Each Serial Killer has their own section with trivia and features memorable scenes from their respective film. It's a cool little compilation to have in your horror collection. This compilation does have cool extras, games and film trivia that will probably appeal to most horror fans. But, I found that Boogeymen was also flawed they could've taken their time into creating something truly special for the horror fan, but this collection touched only the tip of the iceberg as far as these icons are concerned. Boogeymen is a well assembled disc, but it misses the mark in a few areas. I would recommend new fans of Horror to check this one out for sure. At the same time, it's a great introduction to the BEST and at times worst boogeymen in horror (Leprechaun and Blade from Puppetmaster) But the essential Boogeymen are here in one collection. More work could have been put into it, but as far as I'm concerned this is a worthy watch for teenagers who think that Horror remakes are the real deal, viewing this would probably get them more into old school horror, something that should be mandatory for every up and coming horror fan.
Just like Terror in the Aisles, only I'm older now so it's a piece of shit.
Christopher Brown
Super Reviewer
Boogeymen Quotes
There are no approved quotes yet for this movie.