Boogie Man: The Lee Atwater Story
(2008)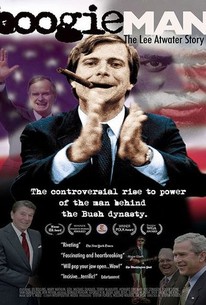 Boogie Man: The Lee Atwater Story Photos
Movie Info
"Boogie Man" is a comprehensive look at Lee Atwater, the blues-playing rogue whose rambunctious rise from the South to Chairman of the GOP made him a household name. He mentored Karl Rove and George W. Bush and played a crucial role in the elections of Reagan and George H.W. Bush. He wrote the Republican Party's winning playbook which the McCain campaign is currently using.
Rating:
NR
Genre:
,
Directed By:
Written By:
In Theaters:
On DVD:
Runtime:
Studio:
Cast
Critic Reviews for Boogie Man: The Lee Atwater Story
Audience Reviews for Boogie Man: The Lee Atwater Story
To some an evil genius, to some a complicated genius. This doc comes down more on the former, but does show through a great many interviews that he was a very complex man. I think perhaps too much credit (or blame, depending on your point of view) is given to Atwater, Rove, and so on. By ignoring how "real" issues also motivate voters docs play into the same cynicism they accuse those on the Right of dwelling on in their campaigns. The Left of course are a bunch of choirboys who get rolled with dirty tricks that have never, ever been seen in American politics, or so the narrative seems to go. Still, I enjoy presidential campaigns so much that I enjoy these docs in spite of their flaws.
Roy Smith
It tells its story in a way you might expect, but it has a few fascinating moments where even Atwater's most ardent defenders of his political tactics in Republican campaigns still decry him as a vicious monster capable of anything. It might even be fair to say that they only liked him because he was on their side.
Alec Barniskis
Super Reviewer
Incisive documentary on one of the most influential political figures who symbolized the the shift in the Republican Party towards extreme partisan politics. It works because the players are allowed to speak for themselves, with Republicans looking like assholes and Democrats looking weak. This was true of the parties at this stage and only adds to the documentary's creditability. His death says a lot about both parties, as Democrats mostly see him finding redemption while Republicans claim he was always the same Lee. This part alone is a subject worthy of a book. The only problem I ad was with the unfocused beginning and ending. The film is a testament to the dangers of unchecked cynicism.
Sean Chick
Discussion Forum
Discuss Boogie Man: The Lee Atwater Story on our Movie forum!
News & Features