Boom Town
(1940)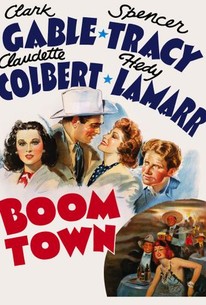 AUDIENCE SCORE
Critic Consensus: No consensus yet.
Movie Info
Clark Gable is "Big John" and Spencer Tracy is "Square John"; both "Johns" seek their fortunes in the Texas oil fields. They simultaneously fall in love with Claudette Colbert, but it's "Big John" who wins out. When both Johns grow rich on oil, "Big John" lets money go to his head, and he begins neglecting wife Colbert for Hedy Lamarr, the "been around" companion of businessman Lionel Atwill. "Square John", who still carries a torch for Colbert but doesn't want to see her heart broken, tries to buy off Lamarr; when this fails, he decides to ruin "Big John" financially. But when "Big John" is charged with violating anti-trust rules by the crooked Atwill, "Square John" rushes to the side of his old pal. Both men end up where they started--broke but happy. "Big John" returns to faithful Colbert, while "Square John" stands by with an ear-to-ear grin. Boom Town was the last film to co-star Clark Gable and Spencer Tracy; though Tracy was fond of Gable, he resented playing "eunuch" in their on-screen romantic triangles. Claudette Colbert's scenes with Clark Gable are pleasant enough, but the sparks that had ignited their scenes in It Happened One Night are largely absent here.
Critic Reviews for Boom Town
All Critics (2) | Fresh (2) | Rotten (0)

Ozus' World Movie Reviews
A fun comedy-adventure, starring MGM's top talent, Clark Gable and Spence Tracy, not to mention Claudette Colbert

Audience Reviews for Boom Town
½
Why should me and you have an argument? One of us may get hurt. Big John McMasters and Square John Sand are two aspiring oil men looking for a big investment. Neither of them know they are in love with the same girl. The two men strike it rich and Big John gets the girl, quickly ending their friendship and having the two men go in separate directions with their riches. John Sand invests his money well and turns his riches into more riches while John blows his money putting him and his wife in a bad spot. Will the two men reconcile their differences and work together to find riches again? "Rabbit stew again?" Jack Conway, director of Libeled Lady, A Tale of Two Cities, Viva Villa, Saratoga, One New York Night, The Girl from Missouri, and Just a Gigolo, delivers Boom Town. The storyline for this picture is fun to watch unfold. The character development is excellent and the script is well written. The cast delivers awesome performances and includes Spencer Tracy, Clarke Gable, Claudette Colbert, Lionell Atwill, and Frank Morgan. "You can always say you were a big man once." I am a huge Spencer Tracy fan. This is far from my favorite picture of his, but it is very good. His character is very dynamic and the chemistry between him and Gable throughout the film was perfect (both during the good times and bad). I strongly recommend seeing this picture! "What do people think I am, a good fairy?" Grade: B-
Kevin Robbins
All star quartet perform well in this robust entry from classic Hollywood.
Great Film!!! I don't think Hollywood allows a film about OIL! to be made under 2 hours. Gable and Tracy shine together as always.
cody franklin
Super Reviewer
Boom Town Quotes
There are no approved quotes yet for this movie.
Discussion Forum
Discuss Boom Town on our Movie forum!