The Boondock Saints II: All Saints Day
(2009)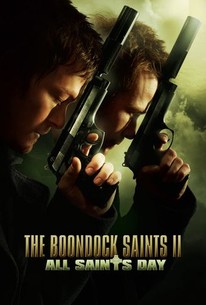 TOMATOMETER
AUDIENCE SCORE
Critic Consensus: This sequel to the cult favorite The Boondock Saints is more of the same -- unoriginal, absurd, violent, over-the-top, and occasionally mean-spirited.
The Boondock Saints II: All Saints Day Photos
Movie Info
Boondock Saints, the 2000 crime picture renowned for the unique story of the fast rise and fall of its egomaniacal filmmaker, Troy Duffy, as well as the cult following that appeared later on home release, gets the sequel treatment with this follow-up. Sean Patrick Flanery and Norman Reedus reunite as the vigilante MacManus brothers, with Billy Connolly returning as Il Duce. Duffy once again directs from his own script, with Clifton Collins Jr., Julie Benz, and David Della Rocco filling out the rest of the cast.
People Who Like this movie also like
News & Interviews for The Boondock Saints II: All Saints Day
Critic Reviews for The Boondock Saints II: All Saints Day
Audience Reviews for The Boondock Saints II: All Saints Day
½
Roughly a decade or so after the courtroom slaying of crime boss Papa Joe Yakavetta, the MacManus Brothers and their dad are living quiet lives as shepherds in Ireland. When a Boston priest is killed in the trademark style of execution used by the Saints, the boys come out of hiding to set things right. The film also goes more into the past of Il Duce. And, as you might imagine, the two plot threads are connected in some way. It was great to see the boys back in action, but this one was a big step down. On paper, the concept is cool, but the execution of it is where things falter. The film takes all of what was both good (and bad) about the first, and cranks it up to maximum. In a lot of ways, it feels basically like the first one all over again, only with more money and far more excess. There's not much of the charm from the first one here, things feel like they're coasting on fumes, and the humor, while occasionally funny, mostly falls flat and feels tired. The acting and the action are quite ridiculous and over the top, but these things can, depending on your pov, either add to the fun, or add to the tedium. I mostly enjoyed the action, and think this is the film's strongest point. The performances are...okay. Like I said, it's the first movie, but on steroids. Flannery and Reedus are good, as is Connolly, but, as much as I like Clifton Collins Jr. I think he went way too over the top here. It was nice to see Judd Nelson come out of wherever he's been, but even he gets a little too off the rails at times. I think this film is probably best enjoyed if you watch it hammered, but that's just me. I'm glad they finally made it, and, though I have my reservations, I do want to eventually get a third film to cap things off. However, I hope that if a third one gets made, that they cut out the excess, beef up the story, and deliver something truly compelling instead of just half-assing it.
Chris Weber
Super Reviewer
½
A bit disappointing as the first one was absolutely fantastic and although an okay movie i cant help but compare it to the first so its okay but the first is just far better!
Film Crazy
Super Reviewer
½
Except if you are The Godfather: Part Two, it is nearly impossible to make a sequel that is equal or better then the original. It just is. The reason why is because when you first create an idea and make a film about it, that is it at it's purest and at it's hieght. With sequels, the idea is already exposed and the shock that the idea gave people is already used up. With a film like The Boondock Saints II: All Saints Day, what it does is take what people love from the first film and just rehash it a second time. The main complaint of the first film was that it was a copy of the films of Quentin Tarantino. My response was that it was more of a tribute (could have been better) to his films then a rip off. If any of the films is a rip off, it is this film. Actually, if one really thinks about it, Troy Duffy is making a parody of his own film. But he could of, at least, done so with some honor and dignity. I don't know. I mean, I did enjoy this fim a bit, but it could have been much more. So much more. But the main problem, other then rehashing parts of the previous film, is that it takes from so many other films whose sequels were better then it's original. The main one that comes to mind is the back story of Il Duce told in a psuedo The Godfather Part Two fashion. Just replace the Sicilian backdrop with an Irish one. Then you also have the cast which, in their own right, are okay actors for the most part, are not used to their potential. But I feel the most bad for Clifton Collins. If you have seen the original film, then you will know that he will be compared to and is basically playing the same part as David Della Rocca. It is just kind of sad that Duffy had to right in a comic relief guy to go along with the already comic relief of the three detectives in this film. My advice for Duffy: keep the comic relief down to one character. Have too much, it will then ruin the film. So, that is all I have to say about the sequel. it is entertaining as hell to watch, has it's moments of awkward humor, but it has so much potential, has so much it could do, hell, it could even have made Troy Duffy some respect after he lost it with The Boondock Saints (in the eyes of critics) and in the documentary Overnight (in the eyes of everyone else). Now, there is a cliffhanger at the end of the film along with one cameo that made me scream 'YES!' at the end. If there would be a sequel to this film, then I have a message for Troy Duffy: Actually write an original screenplay that is not complete crap. You have everything set up, you have your story and mythology (granted you borrowed and ripped off a lot). USE it.
Zach Brehany
Super Reviewer
The Boondock Saints II: All Saints Day Quotes
| | |
| --- | --- |
| Murphy MacManus: | Now that's perhaps the finest examples of spiritual guidance I have ever had the good fortune to witness |
| Murphy MacManus: | That was one of the finest examples of spiritual guidance I've ever had the good fortune to witness. |
| | |
| --- | --- |
| Murphy MacManus: | Let's do some gratuitous violence. |
| | |
| --- | --- |
| Rocco: | Real men hide their emotions. Why? Because it's none of your fuckin' business! |
| | |
| --- | --- |
| Romeo: | This ain't rocket surgery. |
Discussion Forum
Discuss The Boondock Saints II: All Saints Day on our Movie forum!