Boot Camp
(2008)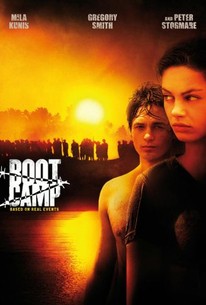 AUDIENCE SCORE
Critic Consensus: No consensus yet.
Movie Info
Mila Kunis, Gregory Smith, and Peter Stormare headline director Christian Duguay's tense psychological thriller about a state-of-the-art rehabilitation program for troubled teens that is in reality a penitentiary-style boot camp where adolescents are brutalized and brainwashed. Filmed in Fiji and penned by John Cox and Agatha Dominik, Straight Edge was the first film to utilize the southwest Pacific Ocean island country's five-year-old incentive program that was designed to create jobs while building a solid film production infrastructure.
Critic Reviews for Boot Camp
All Critics (1) | Fresh (0) | Rotten (1) | DVD (3)
the poor writing gives into its own mob mentality by making those in the boot camp literally become caricatures of angry villagers from an old Frankenstein film
Audience Reviews for Boot Camp
A strong & powerful story of love, strength & endurance. Mila Kunis & Gregory Smith are amazing & this movie kept me on the edge of my seat the entire way through.
Cassie Hill
Super Reviewer
½
"Based on a true story" my ass. It was so dramatized and unrealistic. There's no way that story was at all true. I think the cruelty of the boot camp was possibly true, but it was definitely not based on any true story- it was inspired at best. I think if the director wanted to make a true story, he should've just done a documentary about real camps instead of making his own fake one. But anyways....the movie was kind of boring. It was like the same kids getting beat up in every single scene. It was pretty stupid and not entertaining.
½
Based on real events. This movie to me was kinda different in a good way. The fact that is based on true events and that it keeps happening around the world is really appalling. Mila Kunis acted pretty well and Peter Stormare did his usual bad guy routine pretty well also. The first 10 minutes or so were a little slow, and I wasn't sure what to think. When the characters got to the camp, though, I was enthralled. This movie just keeps you at the edge of your seat. And no matter how brutal the characters are to each other, you can't bring yourself to look away. Good movie, rent it when you have a chance. This film is the story of a group of unruly teenagers whose parents send them to a rehabilitation boot camp to turn them around. The camp collects each child individually, then delivers them to the boot camp facility on a remote island in Fiji. There are no walls to stop the teenagers from leaving, but escape is impractical due to the surrounding sea. On arriving at the camp, the teenagers are forced to wear cuffs with sensors around their ankles if they attempt to escape, security will be alerted. Dr. Hail (Peter Stormare), who runs the camp, forces the teens to work constantly. He has them clean the camp, grow plants, and has them rebuild the camp after it was damaged in a storm. Campers are required to wear color coded t-shirts. First, new arrivals are given black t-shirts. They progress to yellow and then white. The teens earn a white shirt once they have been "corrected." They do not do work; they become staff members and abuse the other inmates and monitor their work. Among the staff is an ex-Marine recruit. He is very tough towards the inmates and makes deals with girls in exchange for sex. The main teenagers featured are Sophie (Mila Kunis), her boyfriend Ben (Gregory Smith who gets himself sent to the camp to rescue her), Danny (who arrives with Sophie) and Trina, Sophie's bunkmate. As time passes on the island, Sophie rebels more and more against Dr. Hail, and once Ben joins her, the two escape to a nearby island. However, they are recaptured, and Ben is told he will be sent home. One morning, whilst on a run, Logan, the former Army recruit, has the male teenagers go swimming. However, Danny, who can't swim, drowns, and Logan tries to get Ben to help cover it up by threatening him with solitary confinement, but Ben refuses. Meanwhile, Sophie discovers that Logan has raped Trina, and when Logan is put before the camp to admit responsibility for Danny's death, she reveals this to the rest of the teenagers, many of whom also were offered yellow shirts by Logan in exchange for sex. As the teenagers surround Logan, Sophie turns the attention onto Hail, at which point Ben announces to the shocked teenagers that this isn't the first death to occur on a camp run by Dr. Hail. The teenagers run amok, burning down the entire campsite, and then go after Logan, who dies when his jeep crashes into a burning building. At this point they turn their attention solely to Hail, who tries to shoot them in the hope that he can restore order. However, after finding out his gun wasn't loaded, he is thrown into solitary confinement, to be left for the police to arrest. As the film fades out we see images of the teenagers celebrating freedom swimming in the ocean. A message also appears on screen stating that since the 1970's, when these type of camps were introduced in real life, over 40 deaths have occurred.