Boot Hill
(1969)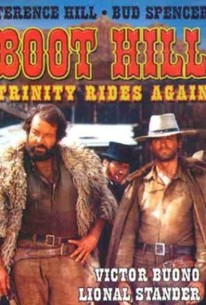 AUDIENCE SCORE
Critic Consensus: No consensus yet.
Movie Info
A tough adventurer and his sidekick find outlaws and rowdy women in this action-filled spaghetti western.
Critic Reviews for Boot Hill
There are no critic reviews yet for Boot Hill. Keep checking Rotten Tomatoes for updates!
Audience Reviews for Boot Hill
Wow, just wow. I can't say that I'm an expert on spaghetti westerns as I haven't seen enough to be exactly fair about my next comment, but I'm gonna go ahead and say it anyway: Boot Hill is the worst spaghetti western ever made. I don't even know how this classifies as a western - it barely even registers as such. Atrocious acting, a shit storyline, horrible visuals and god-awful score. To make matters worse, the copy of the film that I received is a full-screen zoom in on a widescreen print so everything is soft and misframed. Ugh. About the only positive thing about it is that Terence Hill is in it. Other than that, skip it... that is unless you're in the mood for campy circus antics with western antics shoehorned in. Take my word for it, this is just awful. Skip it altogether.
Tim Salmons
Super Reviewer
Terence Hill without Bud Spencer is like Pizza without Beer. lol
A small-time circus and a gang of small-time thieves and gunslingers band together to bring down a wild west business magnate (Buono) and the vicious thugs he employs. "Boot Hill" is the first film featuring Bud Spencer and Terrence Hill (either alone or together) that has bored me. It's a nice change of pace to see them together in a film that's played for drama rather than slapstick comedy, but I can only imagine how much better it would have been if the film had contained 90 minutes of story instead of 45 minutes of story stretched to fill a 86 minutes. I'm a big fan of Bud Spencer and Terrence Hill, but this is a movie that really deserves to be swept away into oblivion with the passage of time. (Oh, and don't be fooled by some of of its alternate titles or even the description here at Rotten Tomatoes. This is NOT one of the "Trinity" films. This is a fillm where Hill spends his screentime doing his best Clint Eastwood impesonation (I think he may even be wearing Blondie's wardrobe from "The Good, the Bad, and the Ugly")... and it's not a very good impersonation. Boot Hill Starring: Terrence Hill, Woody Strode, Lionel Stander, Bud Spencer, and Victor Buono Director: Giuseppe Colizzi
Steve Miller
Boot Hill Quotes
There are no approved quotes yet for this movie.
Discussion Forum
Discuss Boot Hill on our Movie forum!