Border Incident
(1949)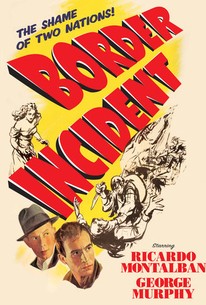 Movie Info
In this film an immigration agent goes undercover to lure and capture traders who illegally smuggle Mexican slaves into the U.S.
Rating:
NR
Genre:
, , ,
Directed By:
Written By:
In Theaters:
On DVD:
Runtime:
Studio:
WARNER BROTHERS PICTURES
Critic Reviews for Border Incident
Audience Reviews for Border Incident
Harrowing, Isn't It? It is hard for a person my age to accept non-ironic suave and debonair Ricardo Montalban. It isn't just Khan. We're talking about a man who was in not one but two [i]Planet of the Apes[/i] movies. By the time I was born, he was self-parody, even unto appearing on an episode of [i]Columbo[/i] that same year. (In my head, this has become [i]many[/i] episodes, and he was the killer in all of them.) My fondness for him mainly stems from that, however, and from two cartoons intended for children but better appreciated by adults. And indeed, Señor Senior Sr. could be his character here somewhat gone to seed, long since retired and wanting to live in peace with the fruits of his many labours. Young Ricardo Montalban does look as though he belongs in, yes, the white linen suit, wooing women somewhere with soft lights and cold drinks. And not the kind of cold drinks with umbrellas in them, either. Here, he is Pablo Rodriguez, who works for what the movie informs us is the Mexican equivalent of the FBI. He teams up with Jack Bearnes (George Murphy), an American immigration agent, to track down and bust up a group of men who smuggle illegal immigrants into the country, get as much work out of them as they can, and then kill them and take back the money the men earned. Only "teaming up" pretty much seems for most of the movie to be that Rodriguez does the heavy lifting, both literally and figuratively, despite the soft hands which mark him as different from the other [i]braceros[/i]. He ends up working in the fields with other men desperate enough to risk the dangers of the illegal crossing, including bandits, to feed their families. Eventually, Bearnes finds out where Rodriguez had gone and gets entangled with the band himself, offering to sell them stolen work permits which would enable the men to be taken to other farms all over the Southwest and pass legal muster. The film is very blunt about one thing. The American agricultural economy relies on [i]braceros[/i], Mexican farmworkers brought in to pick the crops. In the '40s, '50s, and '60s, it was even an official program. At its height, the [i]Bracero[/i] Program brought in nearly half a million men a year for brief stays in the US. The program was originally created to ease labour shortages caused by World War II. It also acknowledges that these are desperate men, especially those not chosen for the program. In 1949, 79,000 men were brought in under the program a year. However, the men brought in illegally are determined to earn American dollars and send them back to their families. However, Rodriguez points out that, outside the official program, they have no legal recourse. They are actually earning [i]less[/i] than they could in Mexico, and there is no one able to enforce the legal wage, as the men are there illegally. This is, of course, still a problem; those willing to hire illegal immigrants are not reliably stopped by such niceties as treating them well. I admit it's easier for Hispanic Ricardo Montalban (born in Mexico City) to hide as a [i]bracero[/i] than Decidedly Anglo George Murphy, but seriously. Wasn't there anyone in law enforcement in the Southwest who could disguise as Mexican? Didn't anyone consider that maybe someone who'd done some gardening or something might be easier to disguise as a farmworker? (Every time someone mentioned his hands, I thought of the crazy old sea captain in [i]Black Adder[/i]--"You have a woman's hands!" Is that wrong?) The implication that he was on the lam only carried so far, I think. Certainly it raised more suspicion than was safe. It meant that they knew there was something Not Right about the man, and that meant that they were going to keep an eye on him. And while I guess the Anglo's cover was better than nothing, the timing did strike me as awfully suspicious. The only reason it didn't strike the men in the movie as more so is that it would spoil the moment when they did become suspicious. This actually isn't that bad an analysis of the problems of illegal immigration, even leaving aside the era-specific way around things. The end narration assures us that we are all safe and under the protection of Two Noble Republics and The Almighty God, which I suppose is reassuring. Nice to know they care that much about our carrots. But the fact is, it's as often as not the illegal immigrants who are the only ones to suffer consequences. Early in the film, one of the American officials insists that, since they are not in the country legally, the US has no obligation to extend them the protection of American laws. Given that he's talking about men robbed and left for dead in the desert, that's a little chilling. It is only when it is pointed out that Americans are also breaking the law by hiring these guys that he's willing to extend cooperation. People would be happy to cut the flow of immigration, but they won't look at the people hiring illegal immigrants as a source of the problem.
Edith Nelson
Very much follows in the footsteps of T-Men. Again a police procedural/government agency flick about two agents infiltrating an underground operation... in this case, illegal immigration instead of counterfeiting. A lot of the beats are the same, but they diverge plenty enough so it doesn't feel like a complete rehash. Again, Anthony Mann works with John Alton to bring some excellent imagery to the screen, and the film serves as a transition into Mann's Western period, capturing the sparse and wild countryside of the southwest. Performances are a step up from the earlier film, with Ricardo Montalban and George Murphy both likeable (if not terribly complex), supported a handful of interesting secondary roles. In sharp contrast to some of today's bone-headed attitudes, the film admirably never once makes the workers out to be the villains, instead taking aim at those who exploit them on both sides of the border. It also treats Mexican in a surprisingly dignified and unstereotypical manner, with a couple of expections. The ending is too pat (problem SOLVED!) but one grows to expect that kind of thing. Maybe a trifle slow at times, but when the tension ratchets up, the action scenes really deliver.
Martin Teller
½
From a story standpoint this is not noir, but it sure as hell looks like it. Ricardo Montalban and George Murphy go undercover to stop an illegal alien ring. Mann's direction is fantastic and is the perfect setup to the westerns he'd later make. Border Incident is pretty violent (the tractor scene alone was pretty frightening--and I've seen The Terminal!!) by even today's standards. My only concern is with the film's social and political relevance that a remake can't be too far behind.
Michael Gildea
Super Reviewer
Border Incident Quotes
There are no approved quotes yet for this movie.