Born in Flames
(1983)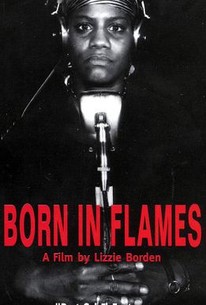 Movie Info
Meant to take place in the near future, this film looks at the rights of women under a socialist society in the U.S. -- and finds nothing has changed. Accompanied by a strong musical soundtrack, the composition of women's groups is explored -- from the most conservative to the most revolutionary. And given the events in the film, it would appear that only revolution is going to work in the future if women really want to achieve equality with men in terms of power, recognition, and influence.
Rating:
R
Genre:
, , ,
Directed By:
Written By:
In Theaters:
On DVD:
Runtime:
Studio:
First Run Features
News & Interviews for Born in Flames
Critic Reviews for Born in Flames
Audience Reviews for Born in Flames
Not a great film, but has some great ideas and moments. Honestly it's mostly just edited poorly, this could easily be recut and come out more coherent. That theme song is hillaaaaaarious though.
Jenna Ipcar
½
set in a future nyc, tho it sure looks like the 80s, the film posits a post-revolutionary socialist society that isn't the great success the government claims. the poor and minorities have seen little change in their situations and feminists, tired of waiting for their turn, get organized. this is the most radical feminist film i've ever seen, with women's groups plotting full-blown terrorist activities, and in fact i'm still a bit blown away that this thing even exists, but i'm so glad it does. it's inspiring to know we once dreamed this big. this is a great example of ultra low budget guerilla filmmaking, admittedly rough but with some really good acting, effective satire and a whole lot of passion. and it's the tea party's worst nightmare
Stella Dallas
Super Reviewer
½
Has all the advantages and the disadvantages of a home movie. It is impertinent, audacious, abounding in fresh ideas, considerably untraditional ideas. On the other hand, it is disjointed, with no real characters, preachy, the script unsufficiently developed and the acting often amateurish.
Lee Mayo
Born in Flames Quotes
There are no approved quotes yet for this movie.