Born to Dance
(1936)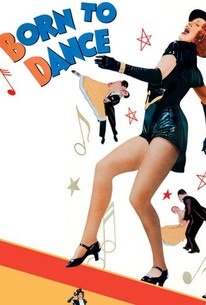 AUDIENCE SCORE
Critic Consensus: No consensus yet.
Movie Info
A never-completed stage musical was the source for the MGM superproduction Born to Dance. The plot is another three-sailors-on-leave affair, with Ted (James Stewart), Mush (Buddy Ebsen) and Gunny (Sid Silvers, who also co-wrote the script) romancing the eminently romanceable Nora (Eleanor Powell), Peppy (Frances Langford) and Jenny (Una Merkel). Nora aspires to become a dancing star, but her career nearly ends before it begins when she inadvertently comes between Broadway luminary Lucy James (Virginia Bruce) and her producer-lover McKay (Alan Dinehart). If anyone watching back in 1936 really cared about the plot, they probably weren't music lovers. The lovely Cole Porter score (his first written directly for the screen) includes "I've Got You Under My Skin", sung by Virginia Bruce to James Stewart, and "Easy to Love", warbled by Stewart to Eleanor Powell. Highlights include Reginald Gardiner's impersonation of a symphony-conducting traffic cop (a routine he'd previously performed on stage) and Eleanor Powell's climactic tap routine on board an art-deco battleship (a sequence later re-deployed for the climax of 1944's I Dood It).
Critic Reviews for Born to Dance
All Critics (2) | Fresh (2) | Rotten (0)

Ozus' World Movie Reviews
The original songs by Cole Porter aren't all memorable, but they are lively and two of them are among is classics: "I've Got You Under My Skin" and "Easy to Love."

Audience Reviews for Born to Dance
Cole Porter wrote one of his best movie scores for this highly entertaining MGM musical; the songs include "Rap-Tap On Wood," "I've Got You Under My Skin" and "Easy to Love" (introduced by James Stewart!); the spectacular finale features Eleanor Powell performing "Swingin' the Jinx Away" aboard a battleship.
Michael Troudt
So what's not to like? Eleanor Powell endlessly hoofin' and hip-wigglin' away as the understudy who's being cheated out of the full limelight she's due -- ah, what moves and gams, Eleanor at her very best. A youthful Jimmy Stewart as Eleanor's swoonin' croonin' love interest. Virginia Bruce as the spiteful, scheming star/lead, who's gorgeously and constantly draped in sumptuous satins and pearls and hairdos. A 20ish, foppish Buddy Epsen tap-dancin' away in a sailor's outfit -- and singin' without a Jed Clampett cone-pone accent. A huge, classic MGM dance-production finale (sans Busby Berkeley) with row-upon-row of leggy gals dancing in all manner of elaborate, glittery, over-the-top outfits and hot-pants, that closes on huge Naval cannons blasting away at the audience. A Cole Porter score introducing "I've Got You Under My Skin" and "(You'd Be So) Easy to Love" (with Jimmy Stewart at the pipes). A light sprinkle of campy chuckles from a storyline by mid-Century cut-up Sid Silvers, who also takes on the role of singing sailor "Gunny Sacks." And outstanding image quality, right down to every last sparkle of sequin. If you haven't yet seen one of these classic 1930ish dance productions, here's an excellent place to start. Unfortunately, this jewel is only available within the box set "Classic Musicals From The Dream Factory, Volume 3." Thanks, TCM, for the memories.
TonyPolito Polito
eleanor powell proved herself the first lady of 1930s dancers with this shiny glossy vehicle from mgm. cole porter wrote the score and roger edens did great arrangements. james stewart makes a rare musical appearance and the cast is rounded out with una merkel, buddy ebsen, sid silvers and virginia bruce.
darryl clark
Born to Dance Quotes
There are no approved quotes yet for this movie.
Discussion Forum
Discuss Born to Dance on our Movie forum!