The Borrower
(1989)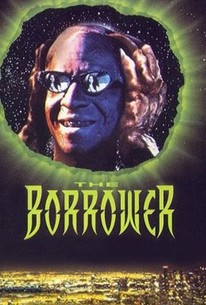 Movie Info
Rae Dawn Chong and Don Gordon are an unlikely detective duo in The Borrower. Assigned to investigate the death of a local poacher, Chong and Gordon run afoul of "The Borower," an extraterrestrial serial killer who, when his head is blown off, appropriates the noggins of earthlings in order to commit his nefarious deeds without detection. Yes, we've seen this before in The Thing, but there are enough nuances and plot twists to keep things percolating. Even the "The End...or is It?" denouement is pulled off with finesse. Director John McNaughton deserves effusive praise for creating a nightmarish ambience for his story simply by utilizing existing structures and locales. And those combustible special effects-yow!
Audience Reviews for The Borrower
½
I would have been giggling the entire time I was making this film. An outlandish premise is given the exact right balance of straight-laced presentation and giddy you've-got-to-be-kidding-me delight.
The Borrower (which is dangerously similar to the superior 80's Sci-fi Horror film The Hidden) is about an alien criminal that has been transformed and banished to Earth to rot with human beings (which is apparently worse than execution). The alien's human body is weak and requires sustenance in the form of other humans, whose heads he takes and adapts to and bodies he consumes. The lineup of victims the alien kills, becomes, and eats is an impressive one, starting with genre actor Tom Towles (House of 1,000 Corpses, Home Sick), then huggy bear himself Antonio Fargas. There's even a transformation between a dog in a particularly hilarious sequence. For the most part, this film is total cheese, though it is entertaining and does not skimp on the gore and violence. There's also a good story within the film as two cops (Rae Dawn Chong and Don Gordon) try to solve the case of the missing heads and dead bodies, while trying to contend with a particularly nasty rapist that is on the loose within the streets and haunting Chong's character. We also get to see makeup effects from a young Kevin Yagher, as well as an even younger KNB Effects team before they started said famous effects team. The BIGGEST surprise with this film is the director, who is none other than John McNaughton, director of the infamously good and very dark Henry: Portrait of a Serial Killer. I'm guessing most people wouldn't have thought McNaughton would have followed up such a movie with something so polar opposite, but then again, it showed McNaughton had great range. This film is definitely different, but pretty fun. This is one film that seriously needs to have a special edition DVD made of.
Jason Duron
½
Very glad and lucky to own this on vhs. It reminds me of movies like Slither or Body Snatchers, but is a lot grittier and with some humor. McNaughton has proved himself as a well rounded director including this, Wild Things and Henry(POASK)
Ian Bracken
The Borrower Quotes
There are no approved quotes yet for this movie.
Discussion Forum
Discuss The Borrower on our Movie forum!