Bottom Feeder
(2006)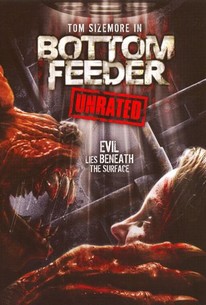 AUDIENCE SCORE
Critic Consensus: No consensus yet.
Movie Info
Tom Sizemore stars in a horror film that looks beneath the safety of the surface to show just what kind of terrors can lurk in the darkness below.
Rating:
NR
Genre:
,
Directed By:
Written By:
On DVD:
Runtime:
Studio:
Peace Arch
Audience Reviews for Bottom Feeder
If you need something to feed your bottom, keep this flick in mind. A scientist is double-crossed and injected with his own serum, which makes one insatiably hungry. He's then pumped with glowing blue glop extracted from rats, metaprotein. As a result, he turns into a rat-man with a terminal case of the munchies and a rubber face largely incapable of movement. Enter a bloated and lethargic Tom Sizemore (who is beginning to look a lot like William Bendix) as the head of a maintenance team with a dream; they're going to hock the equipment they figure is locked away in the abandoned scientific facility. But there are nefarious agents who also want in, because they want that rat-man. Explosions, heads being ripped off, and corny dialogue aplenty ensue, and, of course there's an utterly stupid "twist ending.' Verging well into so-bad-it's-entertaining territory, "Bottom Feeder" is uniquely positioned to capture the valuable "stoned people with pet rodents" demographic. There ought to be a sequel to this one, "Bottom Fatter," about a scientist turned into an overweight vole who accidentally kills people while exercising. Or not.
Brian Seitzman
This movie is okay for a B horror movie.If not for Tom Sizemore it would have been awful and unwatchible.
Ricky Jones
Well it's a low budget horror movie, what else can you expect. I wish all low budget horror movies were like "Botched", man that movie was cool as hell (and very funny too). But what you have here is a cheaply made horror movie and I guess it's ok if you want to laugh at how bad this movie is, which is why I rented it in the first place so I guess I got what I paid for. That's all I can really say about this movie as it really is just a bad low budget horror movie.
Jesse Ortega
Super Reviewer