Bottoms Up
(2006)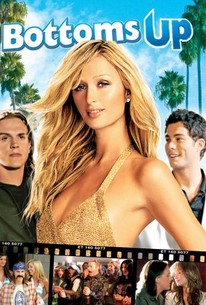 AUDIENCE SCORE
Critic Consensus: No consensus yet.
Movie Info
A Midwestern bar tender hungering for life in the fast lane enters a Hollywood King of the Bar contest in this fast-paced showbiz satire starring Jason Mewes and Paris Hilton. Owen Peadman (Mewes) is Minnesota's "Golden Boy" of bartending, but the Midwest has grown a little bland, and now Owen is looking make a name for himself in the thriving L.A. nightclub scene. When Owen gets word of a high profile bartender contest with a hearty cash prize, he sets his sights on Hollywood and prepares to knock the judges dead. Unfortunately for Owen things don't quite work out as planned, and after losing out to a well-known L.A. barman he is forced to seek the help of his flamboyant Uncle Earl. A fast-talking producer of a popular tabloid new program, Uncle Earl offers Owen a job and the pair soon set out to get the scoop on Hayden Field - the hottest young star around. Getting to Hayden isn't going to be easy though, and after hatching a plan to befriend Hayden's glamorous girlfriend Lisa Mancini (Hilton), the one-time drink slinger find out just how wild the west coast nightlife can truly get.
News & Interviews for Bottoms Up
Critic Reviews for Bottoms Up
All Critics (3) | Fresh (0) | Rotten (3)
There's little merit in this crass, low-brow comedy except for some Paris Hilton curiosity value.

...Hilton, with her oddly misshapen head, disturbingly puffy lips and creepy lazy eye, is a far more incompetent actress than anyone might've suspected...

Audience Reviews for Bottoms Up
½
I was actually quite taken by this movie. Granted solely on the fact that Paris Hilton didn't completely annoy the crap out of me. She some how created a character that you kind of ended up rooting for in the end. Plus I love Jason Mews. And honestly who can pass up fives seconds of Kevin Smith ever thirty minutes?
Sam Collins
Who wouldn't be depressed after watching this stink bomb. Some bad movies are entertaining simply because they are so bad. Calling this movie pathetic would be rating it too highly. This movie is so bad that it should come with a warning to bring nose plugs and a blindfold. Jason Mewes is Jay. I saw both Clerk movies. Got the point ...he's a slacker. Okay, fine. In this movie and every other movie he has been in he is Jay too. Same voice mannerisms, same posture and "wiseass" attitude. Obviously a proud graduate of the Pauly Shore School of Acting. How many movies can one actor make as the same moron he played in his first movie?. Someone call Adam Sandler and ask him how many movies he has made and that will give us a clue. There are two truly noteworthy things about this movie. The first is that it proves with 100 percent certainty that Paris Hilton cannot act (I don't call her a BAD actor because calling her any kind of actor would be a huge insult to actors everywhere.) A bowl of jello in a dark refrigerator moves with more energy and expression than Hilton. The second thing is that David Keith's career in serious movies has officially ended and it ended with definite thud and an even more noticable stench. Someone take his pulse to see if he is still alive or simply moving from nervous impulse. I must admit there was one very enjoyable moment in the movie. The moment it ended.
Bob Hullinger
½
Bottoms up is honestly not a bad movie and I think people automatically assume and go into it thinking it is - because of Paris Hilton. Granted she is not the best actor in the world, but she was not bad in this... the storyline was fairly okay although it has been done more then a thousand times....and it was actually more then funny. Give this movie a watch on a bored night for a good laugh. It's worth that match. Ps: Why does Paris Hilton have Blonde hair on the cover but not once is her hair blonde in the movie? Hmph. Never figured that one out...
Bobby Hobbs
Super Reviewer
Bottoms Up Quotes
There are no approved quotes yet for this movie.
Discussion Forum
Discuss Bottoms Up on our Movie forum!