Bounty Hunters 2: Hardball
(1997)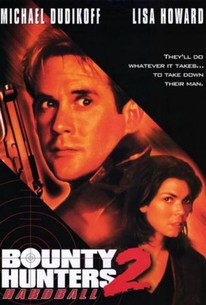 AUDIENCE SCORE
Critic Consensus: No consensus yet.
Bounty Hunters 2: Hardball Photos
Movie Info
Incompatible fugitive recovery agents, the flighty Jersey Bellini (Michael Dudikoff) and his more serious-minded female partner, B.B. (Lisa Howard), have, for the last time, ticked off mobster Wald (Tony Curtis) by apprehending his rather inept henchmen just as they are about to commit a robbery or kill one of Wald's enemies. That's when Wald turns their fate over to the ruthless Crazy Carlos (Steve Bacic), with the intention of having Bellini and B.B. killed. But the hapless bounty hunters keep having good luck just when they need it most.
Rating:
R
Genre:
,
Directed By:
Written By:
In Theaters:
On DVD:
Runtime:
Studio:
Miramax
Audience Reviews for Bounty Hunters 2: Hardball
Another case of a sequel surpassing the original in entertainment value, 'Bounty Hunters 2: Hardball' continues the misadventures of goofy-faced bounty hunter Jersey Bellini (Michael Dudikoff) and his volatile lady friend (and fellow bounty hunter) BB (Belinda, played by 'Highlander's Lisa Howard). This one was pretty funny. It came out after Dudikoff appeared in Springer's Ring Master, so I'm not sure if the filmmakers were going for a more thick and chunky comedy sauce than the first. That might be the case, though. Bellini and BB are the Tracey and Hepburn of bounty hunter movies... Okay, maybe not. But they have great chemistry together and their back-and-forth banter had me chuckling at every turn. Anyone who's girlfriend has ever been pissed at him and couldn't figure out it was because he was acting like a dumb ass will totally sympathize with Jersey. After making up in the first 'Bounty Hunters,' Bellini and his lady are having problems and BB decides it's time to move on. Getting into the middle of a dangerous jewel heist, they once again find themselves the victims of "wrong place-wrong time" and have to fight a bunch of comical Italian mobster stereotypes, one of which is played by Tony Curtis (Spartacus). Lawson Markman. Joe Armstrong. Sonny McClane. Merril Ross. And now, Jersey Bellini. Bounty Hunter. The 'Koff factor was off-the-chain in this. His faces just go for broke and never let up the entire time. My favorite one was where he decks the dude who was on fire. I was totally amused by all of Jersey's little schemes. Lisa Howard is also really hot in that "weird semi-goth/english lit chick @the community college library" way, and she gets in some funny dialog and beats up baddies effortlessly (a little too effortlessly, I thinks). 'Bounty Hunters 2: Hardball' shares all the characteristics of its predecessor: Dudikoff faces, Lisa Howard looking 'girl who listens to the Cure a lot and wears black fishnets in English class hot" and getting pissed off @ Jersey. Inept bad guys who you never really feel threaten the protagonists. Gratuitous booby shots thrown in @ unexpected moments, and some decent explosions and shoot outs here and there. They also share the same director, George Erschbamer. Besides the American Ninja movies, Duds doesn't have too many franchises to his credit. I guess I just can't get over why- out of all the movies he's done throughout his career that could merit such an investment by a studio (Avenging Force, Moving Target)- someone would choose to green light a Bounty Hunters sequel. They're light-hearted, humorous movies, but I would've thought we'd see Platoon Leader 3: Back to Nam before something like this. Good, harmless watchin'.
Jason Anderson
Bounty Hunters 2: Hardball Quotes
There are no approved quotes yet for this movie.