Boxer's Omen
(1983)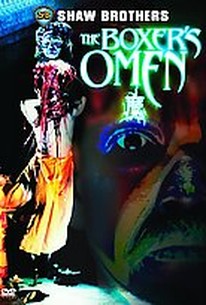 AUDIENCE SCORE
Critic Consensus: No consensus yet.
Movie Info
Rating:
NR
Genre:
Directed By:
On DVD:
Runtime:
Critic Reviews for Boxer's Omen
There are no critic reviews yet for Boxer's Omen. Keep checking Rotten Tomatoes for updates!
Audience Reviews for Boxer's Omen
WHEN FINGER PUPPETS ATTACK!! Killer mix of Shaw Brothers' Black vs. White Magic cinema. There is so much to blow your mind that your eyes will pop out of their sockets. The Black Magic purveyor summons bats and some weird alien head, reanimates alligators, cuts a chicken's head off. There's a voodoo vibe to the black magic. The bats look like finger puppets and the rest features some really early cgi. This film should be the only thing in the Museum of Modern Art. Buy Now!!!
Paul Hawthorne
½
Not just Asian Extreme, but extremely Asian! This was a movie that shocked at every level, except perhaps in great special effects. A triad gangster's brother is crippled in the kick boxing ring after beating the Thailand champ (Bolo from Enter the Dragon). The Gangster starts having visions & vomiting snakes. He promises to vindicate his brother & goes to Thailand to challenge Bolo to a fight in Hong Kong a year later. While in Thailand, he sees a Buddhist temple that he saw in his visions. There a llama is revealed to be linked to the gangster, who must help the llama battle an evil wizard to gain immortality. At different points this film reminded me of Scarface, Raging Bull, Altered States & the Evil Dead films. You gotta see this!
David Weiss
A Hong Kong horror classic, A Hallucinatory mix & supernatural odyssey of Horror, Martial Arts & Buddism. (just go with me) I remember that Bolo Yeung actor from a movie I saw but I guess I?ll have to Imdb it to see what.(from Double Impact & you can check out the rest here http://www.imdb.com/name/nm0001866/ , Its got to be the 80s version the animals in it look like the animals etc from Clash of the Titans (80s)only it looks like they made ?plush? versions of the animals. (surprised NOT to see actual ones at least in the non-cruelty to fake animals parts) kinda fun but seems a bit long. I?m sure for those who like some ?recreational? relaxing.. something tells me it would be even better w/ that. The Black Sorceror had me laughing the hair.. I swear it?s the (?) version of Jimi Hendrix. C
Kym (c my community profile) Salvatore
Super Reviewer
Boxer's Omen Quotes
There are no approved quotes yet for this movie.