Brave New World
(1998)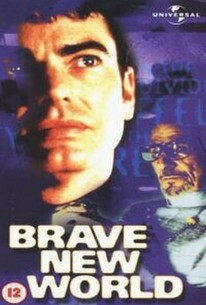 AUDIENCE SCORE
Critic Consensus: No consensus yet.
Movie Info
Aldous Huxley's 1932 science fiction novel was previously adapted to film (a 1980 TV movie starring Bud Cort) and radio (a 1956 CBS Radio Workshop two-parter with an opening intro by Huxley) and again to TV in this 1998 production. In a high-tech city of a future time, humans are genetically engineered, monogamy is frowned on, and the drug Soma is consumed to eliminate stress in a society where the citizens are niched into rigid classes (Alpha, Beta, Delta, Gamma). Scornful looks are directed at high-level Alphas Bernard Marx (Peter Gallagher) and Lenina Crowne (Rya Kihlstedt), a couple who have become interested in each other over and beyond the commonly accepted one-night stands. Bernard has climbed to the upper echelons at the Neo-Pavlovian Conditioning Center, while Lenina is employed in the educational conditioning field. When Bernard and Lenina visit an outlying Reservation, their copter crashes, and they are under attack by the locals when Shakespeare-quoting "savage" John Cooper (Tim Guinee) intervenes. When John takes Bernard and Lenina to the house where he lives with his alcoholic mother Linda (Sally Kirkland), Bernard is fascinated by John's retro way of life and his collection of literature. With automatic satellite tracking in play, a craft arrives in short order to return Bernard and Lenina to the city. For research purposes, Bernard takes the two back to civilization -- where John (aka "The Savage") becomes a media celeb, and Linda gets hooked on Soma. The Director of Hatcheries and Conditioning (Miguel Ferrer) considers Cooper a threat to society, but his superior, the Controller (Leonard Nimoy), who thinks the social order is secure, holds a progressive, thoughtful attitude regarding past, present, and future. Meanwhile, Lenina has a sexual attraction for John, who rejects her passionate advances because it "isn't love," and he soon becomes disenchanted with the unspiritual, hedonistic way of life he sees in this "brave new world." Premiered April 19, 1998 on NBC.
Rating:
NR
Genre:
, ,
Directed By:
Written By:
In Theaters:
On DVD:
Runtime:
Studio:
USA Films
Critic Reviews for Brave New World
There are no critic reviews yet for Brave New World. Keep checking Rotten Tomatoes for updates!
Audience Reviews for Brave New World
Lucas Martins
Super Reviewer
½
I actually liked this TV Movie. It may be hard to believe if you have seen it but I read the book not too long ago and I didn't like the last chapters of the book. I actually liked the changes that Bernard, Lenina, and especially John received in the movie. Bernard isn't that much of a hypocrite, Lenina isn't that confused little person that she portrays in the book, and John isn't that person who would want to do anything to change the society and ends up hanging himself. He commits suicide trying to fit in society that eventually leads the press trying to chase him over a cliff. Despite these changes I don't like the future that they portrayed and I never liked that there is not families or conflict. If there was no conflict then my life would be gone (I'm a huge debater within politics). Overall great job SyFy but it does need improvement.
David Bubbins