The Brave Little Toaster Goes to Mars
(1998)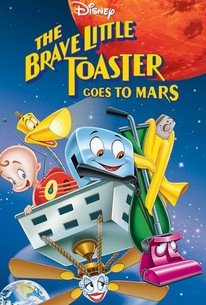 The Brave Little Toaster Goes to Mars Photos
Movie Info
Aimed at younger children, this sequel to the highly imaginative The Brave Little Toaster features most of the original electrical appliances plus a few new friends, including Calculator (Stephen Toblowski), Faucet (Farrah Fawcett), Ceiling Fan (Carol Channing) and Microwave (Wayne Knight), in a brand new adventure. This time, Toaster and company must work together to build a spaceship and travel to the Red Planet after aliens accidentally beam up the household's "Little Master" (a baby) instead of Hearing Aid (Fyvush Finkel).
Critic Reviews for The Brave Little Toaster Goes to Mars
All Critics (5) | Fresh (2) | Rotten (3) | DVD (1)
Wouldn't it be nice if the Brave Little Toaster retired?
A definite spark of the subversive that by itself earns it a recommendation.
Audience Reviews for The Brave Little Toaster Goes to Mars
I like being used. The master and his wife has brought home a little bundle of joy titled, little master. The appliances around the kitchen can all talk and interact and they love their master and new little master. One day a group of appliances that are out for revenge on humans for discarding them kidnap little master and transport him to Mars. The master's appliances work with an appliance that was created by Einstein to transport to Mars and save the little master. "He's bringing home a sausage." "That's one hungry sausage." Robert Ramirez, director of The Brave Little Toaster to the Rescue, Joseph: King of Dreams, Clifford's Really Big Movie, and episodes of the television series Can you Teach my Alligator Manners, delivers The Brave Little Toaster Goes to Mars. The storyline for this picture is unique and the interactions between the characters were fun. The voices presented the characters well and include Deanna Oliver, Andy Milder, Eric Lloyd, and Farrah Faucet. "You know the master, they never throw anything away." "Thank goodness." My daughter loves these movies and asks for them every time they come on the Netflix screen. I don't feel these films are very good. The stories are ordinary and the animation feels like it is from the 70s rather than the 90s. I'd watch this with your child but I wouldn't purchase the DVDs. "Of course they like me, that's why they keep charging my battery." Grade: C-
Kevin Robbins
½
Again lacking the magic of the first, and messed with science enough beyond suspension of disbelief into annoyance.
Connor Groat
What can I say, I loved it as a kid.
Bradley Wright
Super Reviewer
The Brave Little Toaster Goes to Mars Quotes
There are no approved quotes yet for this movie.
Discussion Forum
Discuss The Brave Little Toaster Goes to Mars on our Movie forum!