Breakheart Pass
(1975)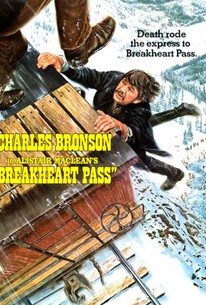 Movie Info
Posing as a fugitive from justice, frontier undercover agent John Deakin boards a train to go after a ruthless gang of outlaws. Ingredients essential to the action include an anti-military conspiracy involving gunrunners and Indians, a phony epidemic, and a down-and-dirty train-top fight between Deakin and Carlos.
Rating:
PG
Genre:
, ,
Directed By:
Written By:
In Theaters:
On DVD:
Runtime:
Studio:
MGM Home Entertainment
Critic Reviews for Breakheart Pass
Audience Reviews for Breakheart Pass
A little bit of everything but at the end we just want to see Bronson kicking arse and while not death wish it's passable.
bill secor
½
Novelist Alistair MacLean, whose normal area of expertise is World War II thrillers such as "Where Eagles Dare" and "The Guns of Navarone", took a break from his wartime suspense novels to write an American western. Here Charles Bronson plays a mysterious man held captive on board a train rolling through the bleak winter wilderness towards Breakheart Pass. Accused of a crime, all is not as it seems for Bronson's character Deacon, is he really a criminal or an undercover agent? With gun runners, government agents, deceitful officials and Indians, this action thriller really thrills and one could do worse than watch this on a rainy afternoon. Highly recommended.
Darren Harrison
Trains, murders, and a tough guy - Charles Bronson. What, another 'Taking of Pelham 1-2-3?' Nope, wrong. Breakheart Pass is a western that actually features action on a train, not just a train full of bad guys pulling into Dead End Gulch. The movie adaptation was based upon the novel by famous yarnster Alistair MacLean, who also wrote the screenplay. An unusual murder mystery, Breakheart Pass has Charles Bronson, and old-school badass, who steps out of his usual tough guy role, and plays a dangerous murderer. Wait, I guess that's not so different from his usual roles! However, in this film, he shows some of that craggy charisma he did in films like the Magnificent Seven. In fact, it's probably the most lines he ever had in a movie. Set in the 1870's, aboard an army supply train in the Old West, the film is noteworthy because it's quite different from the usual gunslingers and range wars fare. Bronson plays his character with the usual grim-faced, gravel-voiced skill, and he's surprisingly effective here. The film also has a load of familiar old film stars supporting him in various roles, and they all look right at home in this western. The mystery of what's going on is slowly unraveled as the train chuffs slowly through the snowbound wilderness. There's some very cool photography, and the fact that it was shot aboard an authentic steam train in some beautiful locations elevates it from the humdrum. Although the pacing is a little slow, it does move along, sort of at a 1870 steam train pace. Unlike static western town scenarios, this murder mystery action western has some great scenery and action on and nearly off the train. The characters are straight out of the book with a few modifications, and they're all distinct and interesting. Charles Durning, Richard Crenna and Ben Jonson put on their Western personas here, and have fun with it. The result is an entertaining yarn about the old west, and there's even a pretty damsel (a still youthful Jill Ireland - Bronson's wife). It's a straightforward script, with good guys, bad guys, and those caught in between. It's up to you to figure out who really is who they say they are.
Breakheart Pass Quotes
There are no approved quotes yet for this movie.