Bride of the Wind
(2001)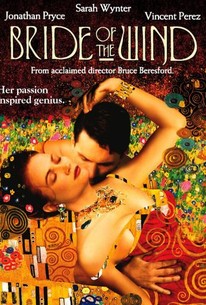 TOMATOMETER
AUDIENCE SCORE
Critic Consensus: Bride of the Wind drags for its length, and Alma, rather than being the proto-feminist the film wants her to be, comes across more as a dilettante of mediocre talent.
Movie Info
Bruce Beresford (Driving Miss Daisy) delivers this fact-based drama about one of the most fascinating private lives of the 20th century. Alma Schindler (Sarah Wynter) was one of the most renowned young beauties in turn-of-the-century Vienna, sought after as a romantic conquest by some of the most famous men in the city, including the artist Gustav Klimt (August Schmolzer). She is won, however, by the most challenging and enigmatic artistic figure of them all, composer/conductor Gustav Mahler (Jonathan Pryce). His one demand is that she give up her own aspirations as a composer, which she has nursed for years. She agrees, and their marriage proves to be a devoted yet loveless union, producing two children but leaving Alma bereft of affection. She suppresses her frustrations as her husband's star rises, sublimating her ambitions completely. His career advances yield extraordinary music but equally notable controversies, and the marriage is riven by stress. When their oldest daughter dies, Alma's health is broken. While convalescing at a sanitarium, she meets another patient, Walter Gropius (Simon Verhoeven). He is gentle and attentive, and they begin an affair, which her husband accidentally learns of later. Their marriage survives, but Mahler also knows that he is a doomed man because of a damaged heart. After his death, Alma Mahler marries Gropius, an ambitious young architect with revolutionary ideas. Their marriage lasts but a few years, for Alma is drawn to another man, the artist Oskar Kokoschka (Vincent Perez). Kokoschka is young, iconoclastic, and daring -- all of the things that the career- and status-oriented Gropius isn't. Their affair yields a renowned painting of Alma that Kokoschka calls Bride of the Wind, a depiction of their passion amid a storm-swept background. They also conceive a child that Alma decides not to carry to term. She returns to Gropius for a time, while Kokoschka sells the painting for enough money to buy a commission in the army, and he is reported killed in action during World War I. Finally, after leaving Gropius, Alma meets a gifted author, Franz Werfel (Gregor Seberg), whom she marries. Her past catches up with her in an odd way, however, when Kokoschka returns, having survived the war and captivity -- he is still obsessed with Alma, to the point that he walks around Vienna in the company of a life-size doll of her, which he destroys in a fit of anger one night at a party. Meanwhile, in Alma's life with Franz Werfel, she finally finds peace and fulfillment, even as a composer -- the movie ends with a 1925 recital at which soprano Frances Alda (Renee Fleming) performed Alma Mahler Werfel's songs.
People Who Like this movie also like
Critic Reviews for Bride of the Wind
Audience Reviews for Bride of the Wind
There are no featured audience reviews yet. Click the link below to see what others say about Bride of the Wind!
Bride of the Wind Quotes
There are no approved quotes yet for this movie.