Brief Reunion
(2013)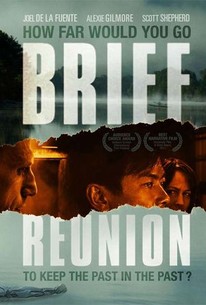 Brief Reunion Videos
Brief Reunion Photos
Movie Info
Be careful who you let play in your virtual sandbox - even if they're old friends. Aaron Clark has it all: financial security, a beautiful wife, and a close-knit circle of old friends. But this cozy life is shattered by the arrival of Teddy, former classmate and proverbial snake. Teddy worms his way back into their lives, 'befriends' Aaron's wife and hijacks Aaron's 40th birthday surprise. He systematically stalks them - at home, at work, and in cyberspace. Bitter over Aaron's success, Teddy pries into his business affairs and hints at improprieties, threatening extortion and revenge. He relentlessly pushes, until Aaron snaps. And suddenly the question on everyone's mind: Is Aaron really the man he appears to be? Or is it true that "Nobody really knows anybody, least of all themselves?" This deep, dark question goes at the heart of human nature, and in Brief Reunion, finds some disturbing and even fatal answers. (c) Official Site
Rating:
NR
Genre:
,
Directed By:
Written By:
In Theaters:
Runtime:
Studio:
Watch it now
Critic Reviews for Brief Reunion
Audience Reviews for Brief Reunion
This is an intelligent adult thriller. Clever, engrossing, well paced, beautifully filmed, artfully crafted, and thoroughly entertaining! Every scene and every frame had purpose and meaning. The New England scenery is just downright gorgeous! The actors brought the characters to life and made them quite relateable. You either know, or are, one of these people, and, can easily identify with the emotions they are feeling, and the difficult choices that they are forced to make. I really enjoyed this movie. Don't miss an opportunity to see a film that challenges your beliefs, makes you question your values, and compliments your intelligence. Well worth the time and ticket!
John Nolan
½
The stunning time-lapse shots of mountain ranges and misty rivers set just the right tone for this tense film - a beautiful-yet-creepy atmosphere that takes us from bucolic ideals - a kayak on a river, a farmhouse in a field - to nightmarish drives through dark woods on dirt roads. Well-cast and well-acted, these characters are familiar - Teddy is that creepy guy that we all knew in college, the friend-of-a-friend who just wouldn't go away.
K D
The juxtaposition of the gorgeous scenery and dark plot heightened my appreciation for "Brief Reunion." It reminded me of the best of Russian literature: the focus is not so much on the crime as on the psychological ramifications of our choices. Do we, in the end, achieve any expiation for our sins, or do we simply disappear?
Bill Hammond
Discussion Forum
Discuss Brief Reunion on our Movie forum!
News & Features