Bright Future
(2004)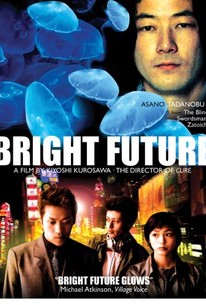 Movie Info
Acclaimed Japanese director Kiyoshi Kurosawa departs from the horror genre for this mystical story of urban ennui. Friends Mamoru (Tadanobu Asano) and Yuji (Joe Odagiri) are aimless young men stuck in dead-end jobs in a dreary factory in Tokyo. Mamoru, the more antisocial of the two, is obsessed with his pet project of acclimating a poisonous jellyfish to fresh water by gradually changing the water in its tank. One night, he inexplicably murders his boss' family and is sentenced to death. Yuji, left to continue the jellyfish experiment, befriends Mamoru's estranged father, and the two form a bond that helps him overcome his emotional troubles. But his attachment to the jellyfish is even stronger, and problems arise when he accidentally releases the poisonous creature into the canals of Tokyo.
People Who Like this movie also like
Critic Reviews for Bright Future
Audience Reviews for Bright Future
½
Japanese fillm about two solitary friends and, initially at least, a jellyfish. Even after watching the whole thing quite carefully, I'm not really sure what the film's trying to say. There's a plot, and action, character development, it's intriguing, and very lovely in places and .... hmm, still no.


I'm not a big fan of movies that have been edited down for time but this is a rare case where the edit works since it speeds things up, though some scenes could have been longer but I'm not complaining. I'd still like to see the original 2 hour film to see what was left out. It's a surreal film, you're not really sure of what you're watching for most of the film but what goes on is very interesting and it keeps you hooked so you never feel bored watching it (outside of some scenes at the beginning that felt long). And plus Tadanobu Asano is THE MAN, so that makes it a must watch for me.
Jesse Ortega
Super Reviewer
Anthony Valletta
Super Reviewer
Bright Future Quotes
There are no approved quotes yet for this movie.