Bright Leaves
(2004)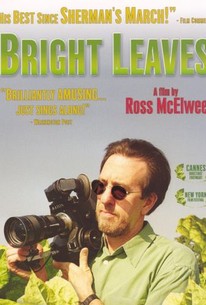 Movie Info
American filmmaker Ross McElwee travels to his home state of North Carolina for the humorous documentary Bright Leaves. In his trademarked rambling style, McElwee lightly questions his family's role in the tobacco industry. Following the Civil War, his great-grandfather John McElwee had a hand in creating the tobacco company Bull Durham, but lost his fortune to business partner Washington Duke in a lawsuit. In order to find out if his grandfather inspired Gary Cooper's character in the 1950 film Bright Leaf, McElwee travels around the tobacco-rich state to places like the Duke mansion, the Double Take Film Festival, and the annual crowning of Miss Tobacco. The documentary includes commentary from film star Patricia Neal and film historian Vlada Petric, along with personal stories about the pleasures and pains of smoking. Bright Leaves was shown at the2003 Cannes Film Festival.
Rating:
NR
Genre:
,
Directed By:
Written By:
In Theaters:
On DVD:
Runtime:
Studio:
Critic Reviews for Bright Leaves
Audience Reviews for Bright Leaves
Self-indulgent and overwhelmed by grating narration, but with the occasional addition of a small, interesting historical fact.
Yva Swenson
½
Fascinating, free-form documentary by SHERMAN'S MARCH filmmaker Ross McElwee. Dude is definitely becoming one of my favorite documentarians. He's like Errol Morris with a heart.
Jason Alley
½
Ross McElwee (Sherman's March) documents his trip back to his roots in North Carolina, where he endeavors to uncover the truth about his great grandfather, who was rumored to have created the Bull Durham tobacco blend, only to have the formula stolen from him by cigarette tycoon James "Buck" Duke. At the same time, McElwee ponders the disreputable legacy that people like his great grandfather has left for our generation. Like most of McElwee's documentaries, Bright Leaves is highly personal. I think his internal journey typically trumps any instructive or educational value his movies might impart. In other words, he's filming anyway...he might as well make a documentary. This attitude hasn't hurt the product; his movies are entertaining and thought provoking. With Bright Leaves...not so much. He hammers home three main ideas. 1) His family was robbed of a vast tobacco fortune. 2) People who work in the tobacco industry typically construct moral double-standards in order to live with themselves. 3) Smokers are addicted to cigarettes. In the past, McElwee would have insured that these observations carried equal doses of humor and catharsis. In Bright Leaves, he nails the catharsis, but forgets the humor, not unlike a whiny child whose ice-cream cone has just hit the asphalt. At least two of his points seem so axiomatic, I wonder why he needs to cover them. Oh, well, at least he also gives us generous portions of his family's unique history. Despite my grousing about this particular movie, I hope McElwee continues to make documentaries, because I really do like his soft-shoe approach to filmmaking.
Craig Burgess
Bright Leaves Quotes
There are no approved quotes yet for this movie.