Brimstone and Treacle
(1982)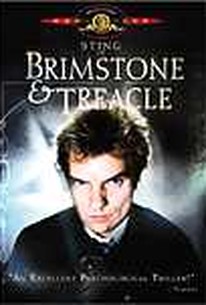 AUDIENCE SCORE
Critic Consensus: No consensus yet.
Brimstone and Treacle Photos
Movie Info
The arrival of a mysterious stranger disrupts the lives of the members of a British family in this dark, psychological thriller. The stranger is one Martin Taylor (Sting), a dangerous charmer who ingratiates himself with the Bateses, a dignified, older couple (Denholm Elliott and Joan Plowright). The couple becomes especially fond of Martin after he demonstrates a strong, caring rapport with their daughter, a disabled invalid. It is only when he has become a part of the household, unofficially serving as the daughter's caretaker, that Martin's true, potentially demonic nature begins to show itself. Based on a script by Dennis Potter, the creator of the brilliant British television miniseries Pennies from Heaven and The Singing Detective, the film layers its already charged situation with hints of the supernatural, aspiring to be both disturbing family drama and provocatively ambiguous morality play. Some moments of MTV-like stylization threaten to diminish the mood of slow suspense and unhealthy obsession, but Potter's distinctly warped sensibility and the solid performances generally carry the film over its rough patches. ~ Judd Blaise, Rovi
Rating:
R
Genre:
,
Directed By:
In Theaters:
On DVD:
Runtime:
Audience Reviews for Brimstone and Treacle
I loved this movie. Sting surprised me with a daring performance. Great acting all around. And a great soundtrack!!
Lisa Marie
I spent the majority of this movie waiting for the big reveal, and it never came. I still [i]think[/i] I'm right about what was going on, but I don't know for sure, because we were cut off before we could really find out. There are hints in the end credits that I may well be right, and there's even a suggestion in the last few lines, but I honestly do not yet know if I'm right about who Sting's Martin Taylor was and what he was doing there. I suspect I am not least because of the title, but I don't know what the "treacle" half signifies in that case. The two sides of Martin's nature? Who he is and who he convinces the Bateses he is? I don't know. But it's a bit of a fun mystery, and one I can see myself thinking over in later days. Certainly Martin is a con artist of some kind. He convinces Tom Bates (Denholm Elliott) and his wife, Norma (Joan Plowright), that he was a friend and more of their daughter, Patricia (Suzanna Hamilton). Almost the entire film takes place within the tight confines of the Bates house. (I cannot doubt that the family was named that for a reason.) Somehow, Martin gets them to trust him, even convincing Norma (also clearly named such for a reason) that it was a good idea for her to leave him alone with Patricia, who was severely brain damaged in an accident and cannot take care of--or defend--herself. Martin happened to meet the guy randomly; they've never met him before. But the next day, she leaves her disabled daughter with him? That's what first led me to suspect that there was something . . . not altogether natural about Martin. The atmosphere of the film is deeply eerie. Whether Martin is a demon or not, he's not a nice guy. He has designs on Patty, and they're not happy ones. He's using the family for his own means, and it simply amazes me that not only does he con Norma right away, but he ends up fooling Tom, who's against him from the start as being a total horror. He knows that there's something not right about Martin, which is why he doesn't want to take him home in the first place. And the thing is, you know it's a bad idea, and you know it isn't going to end well, but you [i]want[/i] it to happen, because you want to know what comes next. Also, if you're me, you want to see how much of his clothes Sting's going to take off. The movie seems determined to make you unsure if Martin is a demon or not, and that really works for me. I know that this is a movie that's going to stay with me, one of those weird movies that you find yourself recommending to people who look at you like you're insane when you try to describe the plot. Because, really, the plot bits aren't the thing that makes it interesting. To be honest, not all of the movie makes any sense. There are gratuitous bits, including a gratuitous shot of Sting's butt, not that I'm complaining. I enjoyed it vastly. This was not a great movie, and it's one of those ones where I'm having a hard time writing a review. There's really not that much to say about it other than "wow, this was cool, and you should watch it." But it is cool. And you should watch it.
Edith Nelson
½
Fascinating movie - Sting is quite an intriguing character in this, and definitely gets his comeuppance in the end.
Patricia Foxall
Brimstone and Treacle Quotes
There are no approved quotes yet for this movie.
Discussion Forum
Discuss Brimstone and Treacle on our Movie forum!