British Agent
(1934)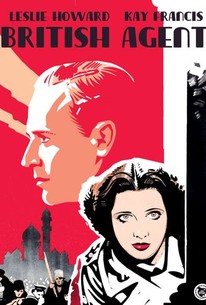 AUDIENCE SCORE
Critic Consensus: No consensus yet.
Movie Info
British Agent starred the Hungarian/British actor Leslie Howard in the title role, was directed by full-fledged Hungarian Michael Curtiz, and costarred American leading lady Kay Francis as a Russian spy. Based on the memoirs of R. H. Bruce Lockhart, who had been the unofficial British emissary to the Russian Revolutionary government in 1917, British Agent spends more time on its romantic subplot than in recreating the birth of Bolshevism. Leslie Howard's purpose in this film is to dissuade the Bolsheviks from signing a separate treaty with the World War I German regime. It is obvious to modern-day viewers that Howard is merely looking after Britain's interests and has no concern for the Russians; this was par for the course in a 1930s film, but does not play well with less jingoistic audiences of the 1990s. The most interesting aspect of British Agent is the performance of saturnine Irving Pichel as a young Josef Stalin.
Rating:
NR
Genre:
,
Directed By:
Written By:
In Theaters:
On DVD:
Runtime:
Studio:
Audience Reviews for British Agent
½
You made me swallow the last piece of gum in Russia. During World War 1 a British agent has been sent to Russia to observe the relationship between the Germans and Russians. As the Russians become independent the country could go in a lot of directions. A rival female is also in Russia and the two spies fall in love. They are pitted against each other and will need to decide if they pit their loyalty against their feelings. ?While you sit there talking about your ideas I fight for mine.? Michael Curtiz, director of Casablanca, White Christmas, The Adventures of Robin Hood, Mildred Pierce, The Vagabond King, Kid Galahad, and Captain Blood, delivers British Agent. The storyline for this picture is fairly interesting and unpredictable with wonderful characters. This picture is slow at times but I adored the acting and felt the script was well written. The cast includes Leslie Howard, Kay Francis, and Cesar Romero. ?Ain?t much fun to watch a game and not take part in it.? I DVR?d this film because it was directed by one of my favorite directors, Michael Curtiz. The film is fairly entertaining but far from his best work. I felt Kay Francis was excellent and delivered her role perfectly. The film is worth watching once as the love story is well done and the conclusion comes together perfectly. This is definitely worth watching once but not worth adding to your DVD collection. ?I?ve done all the supporting I want to do.? Grade: C+/B- (6.5)
Kevin Robbins
British Agent Quotes
There are no approved quotes yet for this movie.