British Intelligence
(1940)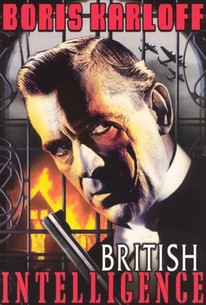 AUDIENCE SCORE
Critic Consensus: No consensus yet.
British Intelligence Videos
British Intelligence Photos
Movie Info
Though set during WW1, British Intelligence was obviously thrown together to capitalize on the outbreak of WW2. A remake of the 1930 espionager Three Faces East, the film stars Boris Karloff as Valder, the sinister butler of a British cabinet minister. It is quite possible that Valder is a German spy, and equally likely that the mysterious Helene von Lorbeer (Margaret Lindsay) is likewise working for the enemy. In fact, the audience is never quite certain who the good guys and bad guys really are until the climax, which takes place during a German zeppelin raid of London. As a balm to 1940 audiences, the film includes an early comedy scene in which German military protocol is upset by a clumsy corporal (Willy Kaufman) who bears a startling resemblance to a certain Nazi dictator.
Rating:
NR
Genre:
, , ,
Directed By:
Written By:
In Theaters:
On DVD:
Runtime:
Studio:
American Pop Classics
Critic Reviews for British Intelligence
All Critics (1) | Fresh (1) | Rotten (0)
A top-of-the-line B-film spy drama, filmed during WWII but set during WWI.

Ozus' World Movie Reviews
Audience Reviews for British Intelligence
This film is made in 1940 and set during World War I. it is a spy film. It can be kind of boring. There is some action at the beginning and towards the end of the film but the middle of the film it is mostly conversations trying to determine who is working for who and who are the spies. It is kind of a difficult film to follow since this film has double agents as well as talking. It was an alright film but kids would probably be born by the film. There is some trench warfare, German spies, British Intelligence as well as double agents. The film has it's moments. I had difficulties seeing this film the first time determining who was working for who and what exactly the spies were after.
STCENTERPRISE .
Solid programmer, good performances and an interesting plot. Good score, atmospheric. Short and sweet.
James Higgins
½
British Intelligence (aka "Enemy Agent") Starring: Margaret Lindsay, Boris Karloff, and Holmes Herbert Director: Terry Morse It's World War I. The German high command dispatches the beautiful master-spy Helene (Lindsay) to London to support an operation managed by legendary German agent Strengler--the infiltration of the very highest levels of the British war ministry. By posing as a French refugee, she is taken into the home of newly appointed minister, Arthur Bennett (Herbert). Here, she is intergrated into a complex web of spies who report Bennett's every move and every top secret government dealing back to Berlin... the milkman, Bennett's secretary, and even Bennett's butler (Karloff) are all German spies! But British Intelligence have recognized something is amiss with the Bennett household, and they've got an operation of their own going. There is a double-agent in the German spy ring. "British Intelligence" is a nice little spy movie with healthy doses of World War II propaganda. Despite its outdated political messages, the film is still fun to watch today for anyone who enjoys spy movies. The film consists of a steady stream of plot twists and turns as British and German agents and double-agents try to trap and outwit each other. The film is well directed, with fine acting, great lighting and camera work, and no padding whatsoever. The final chase scene through the streets of London as it is being bombed by German zeppelins is very tense and expertly executed. On the downside, the film starts to feel a little like a "Spy Vs. Spy" cartoon (from the old "MAD Magazine") toward the end, and the ending that I'm sure must have seemed ironic or poetic to viewers in the 1940s feels EXACTLY like the end of a "Spy Vs. Spy" cartoon. Still, the film held my interest until the end, and it's a nice little time capsule featuring a tight story and fine performances. It's a dated film that's worth seeing today (unlike "Black Dragons", another WW II "beware the enemy spies in our midst"-type movie [URL=http://www.rottentomatoes.com/vine/journal_view.php?journalid=245672&entryid=249117&view=public]I review here[/URL]).
Steve Miller
British Intelligence Quotes
There are no approved quotes yet for this movie.