Knafayim Shvurot (Broken Wings)
(2002)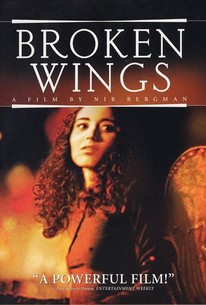 Knafayim Shvurot (Broken Wings) Videos
Knafayim Shvurot (Broken Wings) Photos
Movie Info
Nir Bergman's debut feature, K'Nafayim Shvurot (Broken Wings), chronicles the problems of an Israeli family attempting to come to terms with the death of the husband and father. Nine months after her father's untimely passing, 17-year-old Maya (Maya Maron) spends much of her time helping to raise her younger brother and sister, as mother Dafna (Orli Zilberschatz-Banai) has to work as much as possible at the hospital. While each character struggles with his or her fears and dreams, the family's emotional and financial situation grows dire. Broken Wings was screened at both the Berlin Film Festival and the Palm Springs Film Festival.
Critic Reviews for Knafayim Shvurot (Broken Wings)
Audience Reviews for Knafayim Shvurot (Broken Wings)
½
Every soul in this film about family struggles with some darkness but it takes awhile before we find out what it is, and it takes awhile for them to eventually agree to come together in spite of the darkness, because of the darkness. Filmed in Haifa, it is a universal slice of pie in a unique setting that sprinkles a little hope on tragedy.
Kevin M. Williams
Super Reviewer
A wonderful film! A powerful story about a family trying to get by after the death of their father/husband. Maya Maron gives a fantastic performance as Maya Ulman, a gifted musician who is torn between her dreams and her loyalty to her family. But the popcorn bag award goes to Orli Ziberschatz-Banai. You forget that she's acting and that this is a movie. Ziberschatz-Banai is fabulous...displaying all the emotions of a single mom under pressure and stress to make it all work.
George Kiriyama
Super Reviewer
Broken Wings was a movie that was based on daily life problems.. The characters were so real. The script included teenagers insults that sounds so true and images that stays in your mind, as you see this family in its struggle to get their life back. I liked the performances of all characters, Israelian director Nir Bergman did an amazing job. The music in the movie was great. All in all, a good movie. A must to see.
Daisy Maduro
Super Reviewer
Knafayim Shvurot (Broken Wings) Quotes
There are no approved quotes yet for this movie.
Discussion Forum
Discuss Knafayim Shvurot (Broken Wings) on our Movie forum!