Broken Sun
(2008)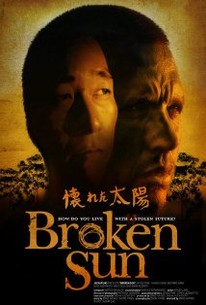 AUDIENCE SCORE
Critic Consensus: No consensus yet.
Movie Info
A former soldier and a current POW on the run meet under unusual circumstances in this World War II drama set in Australia in 1944. Jack (Jai Koutrae) is a farmer who tends a few tracts of hardscrabble land in a remote section of New South Wales. Jack is a veteran of the first World War who is still haunted by flashbacks of battlefield violence, imagines he's visited by the spirits of his fallen comrades, and hasn't shaken the aftereffects of exposure to poison gas. Not far from Jack's farm is the town of Cowra, which is home to a military prison camp. A number of Japanese prisoners of war are housed in Cowra, and one summer day several of them pull off a daring escape; one of them, Masaru (Shingo Usami), makes his way to Jack's property, where he's promptly captured by the farmer. Masaru and his comrades were ordered to commit suicide rather than risk capture again by their commanders, but Masaru has seen too much of death during the war and he willingly cooperates with Jack. The two men have seemingly little in common and don't share a common language, but as Jack waits for authorities to pick up Masaru, they begin to discover they've both been touched by the horrors of combat and they develop a grudging respect for each other. Inspired by an actual POW breakout in Australia in August 1944, Broken Sun was the first feature film from director Brad Haynes. ~ Mark Deming, Rovi
Rating:
NR
Genre:
,
Directed By:
Runtime:
Critic Reviews for Broken Sun
All Critics (2) | Fresh (0) | Rotten (2)
The film's noble purpose is obvious, but the drama just never gets going.
Broken Sun intends to be absorbed rather like a poem, with spiritual and peaceful ambitions. The deliberate pace, the sometimes filtered cinematography, and the sparse dialogue, combine to create the film's mood of regret.
Audience Reviews for Broken Sun
½
Everyday we are faced with multiple decisions, some of which involve people close to us, but what if your decision was your friend, wounded on the battlefield, begging you to kill him so he would not have to live as a prisoner? Would you do it? Could you do it? Or would you let them live, and be forever haunted that you made the wrong decision? Broken Sun is the tale of two men who, despite being from different parts of the world, each with a different belief system on life, death, and honor, find themselves sharing a small living space near the end of World War II. Jack (Jai Koutrae) lives alone in a small shack on a quiet Australian farm. His days and nights would come and go peaceably if not for the constant hallucinations of his long dead war buddy from his tour in France during World War I. This, along with a bad cough caused by prolonged exposure to mustard gas, makes it difficult for Jack to enjoy his otherwise serene lifestyle. After a botched escape attempt by Japanese soldiers from a nearby POW camp, Masaru (Shingo Usami) stumbles onto Jack's farm and into his life. The men, at first untrusting and at odds with each other, soon form a friendship of sorts as they're desire for companionship and an understanding of the suffering they've both faced from war, finds them in an awkward friendship. As the film jumps back and forth from Jack's farm, his memories of WWI, and Masaru's memories of life in WWII, before the POW camp, the cinematographic color pallet changes from warm yellow, to dingy greenish-gray, to bright greens, yellows, and white sunshine. This technique makes is easy to tell what time period we are seeing at any given time and changes the mood of the scenes as well. Koutrae is believable as Jack, the tortured soul who is haunted by visions of a war buddy he feels he betrayed several years ago on the battlefield. Jack is likable and gives the sense that he wants to put the war and the killing behind him and focus on his new simple life. Usami's portrayal as Masaru, gives heart to a character that has been taught to be a killer, and to be willing to kill himself to keep his honor so his family will never know he was a prisoner. This heart, and a desire for self-preservation, is what gives Masaru and Jack common emotional ground. They're done with the wars and they want to live peaceful lives. Eventually, Jack and Masaru are faced with the same question, and they each deal with it in a different way, but there's not a lot of meat to the story. We're given a look into their lives and see how they acted as soldiers, compared to who they are now, but the film doesn't get much deeper than that. The characters are developed, but in the end, we don't feel for them as strongly as we should. While Broken Sun is an interesting look at how people of other cultures can overcome obstacles to become friends, it remains too close to the surface and doesn't go as deep as it should into the characters, which still leaves us with an enjoyable film, but not the great work it could have been.
Justin Smith