Brooklyn Lobster
(2005)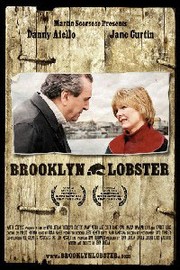 Brooklyn Lobster Trailers & Photos
Movie Info
Aging patriarch Frank Giorgio tries to maintain his Brooklyn pride when the bank that holds the small business loan for his lobster farm forecloses. A hardworking man who listens to only oldies on the radio, Frank sees his worth as inextricably tied to his company. It is just this traditional attitude that has alienated his wife and grown-up children. Frank must temper his resistance to change and learn to express his love for his family in a more -- or less (?) -- conventional way if he is to find contentment.
more
Watch it now
Cast
News & Interviews for Brooklyn Lobster
Critic Reviews for Brooklyn Lobster
Audience Reviews for Brooklyn Lobster
paul sandberg
Super Reviewer
NOT a comedy, and only a one note drama with one note characters.
Bickering family bickers at each other.
No compassion, no forgiveness, no laughter, no tears.
Horrible.
Just like diet pop - it should be sweet, but you can tell it's artificial, and any sweetness is overpowered by the bitter aftertaste.
Depressing small movie about a family business that is failing and the crumbling marriage of the parents who are otherwise trying to hold everything together.
They angrily cuss like sailors throughout at each other - the grown kids too, and there's nothing to endear Any of them.
So, sadly you don't care about the characters, the family or the business, so when the cliche ending comes together and all is well, you are left feeling glad it's over.
I hated it, stupid one note characters.
even tho I otherwise like Jane Curtin - in ANYTHING else.
Such a disappointment here.
It gets one star for the one note story, one note characters, and one note emotional response.
Brooklyn Lobster is a really fun and interesting film about an Italian family that is running a lobster business in Brooklyn. I found the movie to be really interesting and kept my attention from the start. The characters were authentic and the dialog was well written.

The movie has a simple plot, and is not really going to excite you, but it is well written and acted. I recommend this to anyone that likes movies about old school families and small businesses.
Discussion Forum
Discuss Brooklyn Lobster on our Movie forum!
News & Features