Brothel
(2008)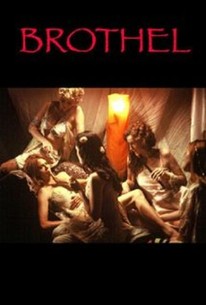 AUDIENCE SCORE
Critic Consensus: No consensus yet.
Movie Info
A woman reeling from her lover's recent death purchases an abandoned former brothel in Jerome, Arizona, and begins to experience disturbing visions of the building's previous residents while attempting to transform it into a bed and breakfast. The more time Julianne spends restoring the transient, turn of the century estate, the better acquainted she becomes with its spectral tenants, including Ladie Sadie, the Madam. When Julianne learns of the horrible fate that befell young prostitute Maddy in a nearby mine, she works frantically to alter the past, becoming so immersed in the world of the dead that Ladie Sadie insists she reaffirm her mortality by forging a connection with another living being. Desperate, Julianne seduces the artist who lives next door, and winds up more isolated than ever after he grows confounded by her insincerity, and grows distant. Meanwhile, accelerating events in Julianne's life begin to feel as if they're racing to some sort of ominous apex. As Julianne's personality begins to fragment, she descends into the mineshaft in search of Maddy, but instead finds herself confronted by her own tragic past, and forced to make a painful decision.
Rating:
NR
Genre:
, ,
Directed By:
Written By:
In Theaters:
On DVD:
Runtime:
Studio:
Vanguard Cinema
Critic Reviews for Brothel
There are no critic reviews yet for Brothel. Keep checking Rotten Tomatoes for updates!
Audience Reviews for Brothel
The Brothel (Amy Waddell, 2008) There is really no tactful way to say this, so: Brothel (which may or may not have a The in front of it depending on which website you look at) is an unforgivably bad film, a Hallmark Original Movie with added profanity and nudity, but with the same new-age-inspirational-claptrap feel to it that gets the panties of the Hallmark Channel execs wet every time they encounter it in a bad DTV movie. I expect, if they can find a way to excise the things from it you can't show on TV, you'll be able to see it there relatively soon. Plot: For reasons unknown to you at the beginning of the film (they are part of the great mystery of the thing), Julianne (Serena Scott Thomas, younger sister of Kristin) is interested in getting away from her previous life as a wedding/party planner, buying an old brothel in Jerone, Arizona, and turning it into a bed and breakfast. She soon finds that the place is haunted by the ghosts of its last madam (The People Under the Stairs' Grace Zabriskie) and some of her girls, leading to long sequences of tearful dialogue as everyone works through their problems, ghost and human alike. There's a minor romance subplot, some thriller stuff, but in general, indistinguishable from your typical Hall-Time Original Production, right down to having the relatives of more famous actors hanging around (Whip Hubley, Season's younger brother, pops up as well). And all of it probably could have been done correctly, or at least half-decently, if Waddell (turning in her first, and as of this writing last, feature) had been able to decide what kind of movie she wanted to make. Is it a Life-Mark Original or an erotic thriller? A ghost story or a romance? A drama or a horror film? We have any number of examples of movies that crossed over well, but when it comes to making over a room, there's a way to mix Louis XIV and Roy Eames and make it look right, and a thousand ways to do it wrong. Amy Waddell, unfortunately, found herself with the latter. 1/2
Robert Beveridge
½
This mess couldn't figure out what it wanted to be aka poor direction: a restaurant owner's lover kills himself so she moves to small town Arizona and purchases a former brothel to make over into a B&B. Shortly after, she receives visions of the former brothel workers and somehow ties these delusions into her life with the lover, who was a thief that broke into her house and stayed. Ghost story? Examination of mental illness? Twisted romance? Doesn't matter - it is awful. Nice looking ladies though.
Don Schick
Brothel Quotes
There are no approved quotes yet for this movie.