Brother
(1997)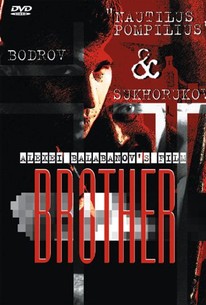 Movie Info
Danila goes to his older brother to start a new life in Petersburg. His brother is a gangster and a killer, and he puts Danila into this criminal world asking him to kill someone. There his new life starts, he meets new people, a girl, becomes a big fan of the rock band "Nautilus Pompillius". Now he is a killer, and killing is easier than living for him. Realizing this makes him understand he is going the wrong way.
Rating:
R (for pervasive strong violence, language and brief nudity)
Genre:
,
Directed By:
In Theaters:
On DVD:
Runtime:
Critic Reviews for Brother
Audience Reviews for Brother
Brother (1997) - A Russian film about a young man discharged from the army and encouraged by his mother to go to his brother in St. Petersburg. Although his mother thinks his brother is a big shot, he's actually a hit man who is perceived by his customers as getting a bit too greedy. The two brothers end up as a team. The kid brother, Sergei Bodrov Jr., is a hard case and is well suited for this study in violence. The stop/ start scene breaks are refreshing, giving me a chance to absorb what I've seen before the next scene. Subtitles are unobtrusive and it's easy to watch the film and keep up with the dialogue. Good movie.
Rich Brown
½
--Brother Interesting Russian movie. A big Hit over there. seemed dated to me and I guess it is being made in 1997. The film became an instant hit, and raised the fortunes of both Sergey Bodrov and director Aleksei Balabanov. The story's depiction revolves around the problems and attitudes of the 1990s Russia: crime, poverty (for example, as with the homeless Nemets), the disaffection of the Russian youth (as with the character Kat), and failing families (as with Sveta and her abusive husband) brought about in the aftermath of the Soviet collapse, which took place six years prior. Yet it exposes that there is still courage and good in the face of Danila, who is portrayed as having an acute sense of right and wrong, and appears to follow some semblance of a moral code. As such it carries a powerful psychological message to the Russian audience that even in such gloomy times there is still hope. Its an ok movie for a Russian movie but no spark or intellect. Just Russian macho family stuff. Their lives seem so aimless. I enjoyed seeing the slice of Russian life but the film plot etc did nothing for me. I was barely entertained. 2 stars
ld pierce
½
Another film from the 1997 Toronto International Film Festival list. Also a Kino Film. If you haven't checked out Kino films its time you did. This movie was filmed in Russia, has English subtitles. About 2 brothers, 1 just discharged from the military service, the other working with the Russian Mafia in St Petersburg, the brother who gets out of the army goes to St peters burgh to find his brother, and in the end takes over brothers position and sends his brother home to aging mother. My review doesn't give it justice, well worth the watch. 3 1/2 stars
Bruce Bruce
Super Reviewer
Discussion Forum
Discuss Brother on our Movie forum!