Brothers of the Frontier
(1996)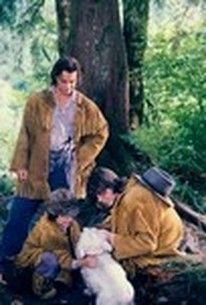 AUDIENCE SCORE
Critic Consensus: No consensus yet.
Movie Info
In this western adventure a young man heads off into the wilds to save his parents from their Indian captors. A lovely native woman befriends him and helps out with his search.
Rating:
NR
Genre:
, , ,
Directed By:
In Theaters:
Runtime:
Studio:
Viacom Productions
Critic Reviews for Brothers of the Frontier
There are no critic reviews yet for Brothers of the Frontier. Keep checking Rotten Tomatoes for updates!
Audience Reviews for Brothers of the Frontier
A family is forced to leave their homestead after one of their sons allegedly shoots a deer on the Holcomb's land. Mr. Holcomb insists that they pay $200 for the buck or sign over Ethan Frye (the eldest son) to be a bond servant for the period of two years. The family leaves but the boys (Ethan, Aaron and Jamie) get separated from their parents on the journey, confronting vicious bears, raging rivers, Indians, the Holcomb's siblings and a bounty hunter who is determined to have collect the reward for bringing Ethan back.
½
Oh the memories of watching the Lawrence brother's at their prime...I remember loving their tv show Brotherly love on Disney and Fox Family (which is now called ABC Family). It was up there with Boy Meets World on my pre-teen drama's...never really got into Saved by the Bell...hated Screech...a lot, lol. You see...Brotherly Love was like today's Jonas Brother's Disney show...three cute boys (ok...two for each show, lol) getting their own show because they're cute...they have the same first name...but they changed their last name. I loved Matt...he was definitely the cutest one of the three during the run...then there was Joey who was just sexy. Andrew...aka Andy...was a young boy...during his awkward years...so no love there, but he grew into the Lawrence cutie look later in life. Anyways...I digress...I remember watching this movie when I was in junior high too...it was on Fox Family, during the run of Brotherly Love. It was a made for tv movie that was...definitely made for tv, lol. It seems like tv actors are good in their shows...but when you put them in a different character...they suck, lol. I remember loving this movie...but after watching it again...I wonder why??? The movie was about three brothers (Jamie (Andrew Lawrence), Ethan (Joey Lawrence), Aaron (Matt Lawrence)) who are running from trouble, and get separated from their parents on the journey to a new city. They have to learn to stick together and use their skills to survive. That's pretty much the whole movie, lol. I was disappointed...mainly because I loved this movie so much when I was a kid. For daily movie reviews, polls and more, visit www.kimsmoak.com now!
Kimberly Smoak
Despite the video and sound being out of sync when I watched this instantly, it was really nice to revisit this. I hadn't seen it since I was 12 or 13 years old, but it was just as entertaining (albeit cheesy) now as it was back then. This is a great family film with nothing that kids shouldn't see. It's also a nice bit of nostalgia for those of us who were fans of the Lawrence brothers back in the 90s.
Amanda Hendsbee
Brothers of the Frontier Quotes
There are no approved quotes yet for this movie.