Brothers
(2004)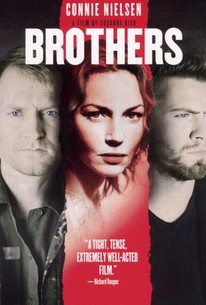 TOMATOMETER
AUDIENCE SCORE
Critic Consensus: This tense, understated drama explores the complications of individual and social ethics stemming from the repercussions of war on one man and his family.
Movie Info
Two brothers unwittingly exchange roles under the fog of war in this powerful drama. Michael (Ulrich Thomsen) and Jannick (Nikolaj Lie Kaas) are two brothers who have always meshed as well as oil and water. Michael is a caring husband and father who risen to the rank of major in the Danish Army, while Jannick is an alcoholic with a violent streak who has been in and out of prison much of his life. Jannick has just been released after serving time for armed robbery when Michael learns he's being sent to Afghanistan; Jannick quarrels with both Michael and his parents at a going-away dinner, which does nothing to endear him to Michael's wife, Sarah (Connie Nielsen). However, when Sarah receives word that Michael's helicopter has been shot down and the crew has gone missing, Jannick tries to assume some degree of familial responsibility, helping Sarah with the children and helping to keep the house in repair. As the months roll on, Jannick finds that family life agrees with him; he cuts back on his drinking, gets a job, and grows increasingly fond of Sarah, who also takes a liking to her brother-in-law's new style. However, as Jannick finally grows into a responsible adult, he and Sarah learn that Michael has been released from an Afghan military prison and is being sent home. As Sarah and Jannick come to terms with their feelings for one another, they are disturbed by Michael's new presence; after several hellish months in captivity, he's become an angry and emotionally broken man, who is haunted by ugly memories and suspects his wife and brother of betrayal.
News & Interviews for Brothers
Critic Reviews for Brothers
Audience Reviews for Brothers
One brother, recently released from prison, befriends his brother's wife, while the latter is believed dead in Afghanistan. We watch no film in a vacuum. The films we've seen in the past inevitably affect how we view new films. In this case, I couldn't help but compare the original Danish version of this story to the American remake starring Jake Gyllenhaal, Tobey Maguire, and Natalie Portman. All three American actors have turned in good, sometimes great, performances in other work, but I found the American version staid and uninteresting. Now, I compare that to this film. The performances by Nikolaj Lie Kaas, Ulrich Thomsen, and Connie Nielsen are far and away better. Even on the most superficial level, Kaas looks like a fuck-up brother while Thomsen's maturity and political commitment resonate his every move. The final climactic moments hold more suspense and engender more fear because Thomsen's emotional decay is a more extreme inner torment and his physical stature is more demanding than anything that Tobey Maguire could inspire. There are almost no differences in the stories, but the way the original is told, by actors who are truly right for their parts rather than Hollywood stars trying to fit into unwilling molds, makes Brothers compelling drama. As much as I liked this film, especially in comparison to its flaccid American cousin, the story is still littered with "must-happens," in Super Reviewer Alice Shen's words. Overall, Brothers proves that a clone is never as good as the original.
Jim Hunter
Super Reviewer
½
Incredibly compelling take on the consequences of war and how it affects the family, in particular the relationship between the two brothers. Contains a great performance from Ulrich Thomsen and and the brilliant Connie Nielsen. This is film making at its absolute best, just a shame Bier doesn't do more films-I must check out the rest of her filmography If you enjoyed this check out After The Wedding another great film by Susanne Bier.
Sarah Gaish
Super Reviewer
½
The original BROTHERS movie. I liked it alot better than the American version, even though I thought that one was good, too. There was just something much more moving about this one. I have to say that the American movie script was very close to this script..almost word for word sometimes. But, on the whole, I think that they did a better job telling the story in this one. The camera work alone had a better artsy feel to it. Nice movie!
Cynthia S.
Super Reviewer
Brothers Quotes
There are no approved quotes yet for this movie.