Brother's Shadow
(2006)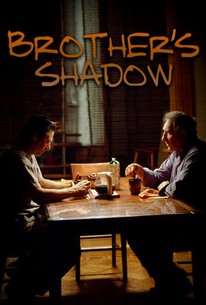 AUDIENCE SCORE
Critic Consensus: No consensus yet.
Movie Info
An ex-con trying to put his life back on track turns to his family, but they aren't so sure they want him back in the fold in this independent drama from writer and director Todd S. Yellin. Jake Groden (Scott Cohen) is the black sheep in his family, an alcoholic and habitual felon who has spent 14 years in jail. Jake has always suffered in comparisons with his hardworking twin brother, and when his brother dies unexpectedly not long after Jake is released from jail, he braces himself for an uncomfortable reunion with his family. Jake's father, Leo (Judd Hirsch), makes no secret that he doesn't trust his son, and he recedes into his strong Jewish faith rather than reconnect with his errant son. Jake's sister-in-law, Emily (Susan Floyd), is still coming to terms with the death of her husband and having to raise their son on her own, and she's torn between a resentment of Jake and her attraction to a man who closely resembles the man she still loves. And Adam (Elliot Korte), Emily's son, is curious about the man who vanished from his family a decade and a half before. About the only thing his family will say in Jake's favor is that he's very good with woodworking, and in an effort to mend fences with his father and keep himself on the straight and narrow, Jake focuses his attention to saving the family business, a cabinetry shop that's seen better days. Brother's Shadow received its world premiere at the 2006 Tribeca Film Festival.
Critic Reviews for Brother's Shadow
All Critics (3) | Top Critics (3) | Fresh (3) | Rotten (0)

San Jose Mercury News
Top Critic
Brother's Shadow is an enjoyable film about family matters. Each member of the cast owns his role and the story, despite its lapses, seems real.
Its breadth and depth of personality could make it a hit among auds in search of solid emotional content and characters that feel real.

Audience Reviews for Brother's Shadow
½
I was in one of my typical movie hipster moods when I came across this random title. Brother's Shadow is a very cut & paste but acceptable story about a family torn apart and a son who wants to do right by them. That son had previously been sent to the big house for burning down his father's workshop, but now he is back in their lives to try and right the wrongs of his past. Not everyone in the family is overly receptive at first, but we wouldn't have a story if he just gave up and went home. Judd Hirsch plays the father and Scott Cohen, the troubled son. I think both were alright in the film but there was certainly nothing special about either performance. No matter what mood or tone Scott Cohen was in, his face never changed. Be prepared for his serious and determined face as that's all you will mostly ever see. Judd Hirsch wasn't in as many scenes as I expected but his role as the Jewish father who leads his household from the guidance of instructional parenting books was obviously believable. There were many parts of this story that were symbolic to the actors and their on-screen family's Jewish faith, and I believe I understood them all enough to appreciate the story that they wanted to tell. To give you an example, that workshop I mentioned earlier is for carpentry. Scott Cohen believes he is the best carpenter in the world, but he'll need more than just his father's approval to make his new life a success. One point of the plot that I didn't care for as much was how Scott fit in with the rest of the family. It just seemed way too simple. It's like all those years apart never affected them once the initial shock had worn off. There were interactions with his brother's widow that made no sense and you would think would never happen in the real world but who knows? Had those moments with the rest of the family been less ridiculous, I think the story would have been so much better. Brother's Shadow is a perfectly acceptable film. It's harmless, cliche and predictable but still somehow keeps your attention. If you're just looking for a film that can kill a few hours on a strangely snowy afternoon, give this movie a shot. You likely won't be adding it to your personal collection but at least you can say you gave it a chance and watched another hidden film that you can cross off the list.
Erik Dahlman
Brother's Shadow Quotes
There are no approved quotes yet for this movie.
Discussion Forum
Discuss Brother's Shadow on our Movie forum!