Brother's War
(2008)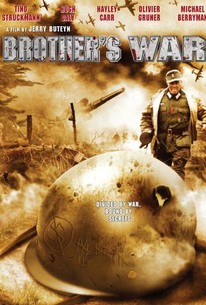 AUDIENCE SCORE
Critic Consensus: No consensus yet.
Movie Info
In the waning days of World War II, enemies must become allies in order to deliver a message that could change the world. Fighting on the Eastern Front is fierce as the Western Allies and the Russian Red Army continue their advance toward Berlin. For the moment the Allies are united, but a British Officer attached to the Russian Red Army is about to uncover a secret with the power for shatter that coalition should it fall into the wrong hands. When Stalin's notorious Intelligence Service manages to capture the officer, he finds an unlikely ally in the form of an imprisoned German captain. Bound by honor, oath, and secrets, the two soldiers are joined by beautiful Polish nurse Anna in their attempt to reach the Allied Command. With a relentless Russian Intelligence Officer hot on their trail, the trio prepares to deliver a message that will alter the course of the war, and the lives of millions.
Critic Reviews for Brother's War
There are no critic reviews yet for Brother's War. Keep checking Rotten Tomatoes for updates!
Audience Reviews for Brother's War
This was a great war film come on guys, there are people out there who have knocked this film way down. It does not deserve a bad review, it was well thought out, the music was absolutely amazing and the acting really good. the lead Tino Struckmann did an amazing job some of the scenes really got to me. And I agree they did their research many small details in there, not just a fluffy movie. would love to see Struckmann in a remake of the Iron Cross, or a brother movie with Olivier Grunor they play really well of each other. For any war film it is a must see, it is an independent film but put very well together despite of that.
Peter Cohen
I found it a most compelling film, With strong historic content. The producers really have understood this terribly period and with all the small subtleties and dangers. I was very impressed and can only recommend it. I also very much enjoyed the lead actors I found all in this film did a very good job.
Beate Klar
I have to say I do not feel the rough critique of this film justified. Sure it is an Indie film and not of a million dollar budget. but they put a lot of effort into it, a lot of historic facts and nice war scenes, The tanks and guns were real not fake CGI and they made a serious effort here. I truly enjoyed it and watched it several times, there are some really good points to it, and the acting was solid on all parts. And of all the war films I have seen this is absolutely one of the better ones. And as film fans we should acknowledge those of smaller budgets not just run them over because they did not have a studio budget. solid story line and subplots they get a thumb up.
jamie anderson
Brother's War Quotes
There are no approved quotes yet for this movie.
Discussion Forum
Discuss Brother's War on our Movie forum!