Bu er shen tan (Badges of Fury)
(2013)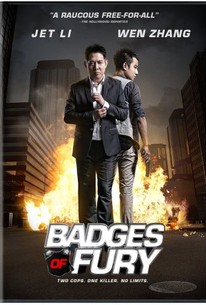 AUDIENCE SCORE
Critic Consensus: No consensus yet.
Bu er shen tan (Badges of Fury) Videos
Bu er shen tan (Badges of Fury) Photos
Movie Info
When a series of eerie murders erupt across Hong Kong, two troublemaking cops are assigned to the case. Young maverick WANG (Zhang Wen) is a reckless risk-taker, and grizzled vet HUANG (Jet Li) is fed up with cleaning up his rookie's messes. After discovering all the victims were former boyfriends of aspiring starlet LIU, the detectives (one now posing as her lover) are caught in a deadly game to lure the killer out. (c) Well Go USA
Critic Reviews for Bu er shen tan (Badges of Fury)
All Critics (2) | Fresh (1) | Rotten (1)
If you enjoyed the wild antics in Kung Fu Hustle, then you'll likely have a good time with Badges of Fury. Over the top and ridiculous, Badges of Fury pushes extreme to its limits and takes the utmost pride in doing just that.
There's not much of Jet Li in Jet Li's latest action/comedy, Badges of Fury, a silly, slapstick farce overloaded with wirework stunts and achingly bad acting.

Audience Reviews for Bu er shen tan (Badges of Fury)
Just because I show doesn't mean you can touch. Hong Kong has been plagued by a serial killer that leaves his victims with a smiling face. Detective Huang Feihong is an ageing veteran that has been assigned two green rookies to help him solve the case. The rookies bungle the case at every corner making it harder and harder for the old police officer. "It's not every man that can put on a dress and pull it off." Tsz Ming Wong delivers Badges of Fury in his directorial debut. This is a martial arts comedic satire in the mold of Kung Fu Hustle. The action and special effects were disappointing and the martial arts scenes were inconsistent. The cast includes Jet Li, Zhang Wen, Michelle Chen, Collin Chou, and Stephen Fung. "I'm obviously setting up an ambush." This was a new Jet Li movie they recently added to the Netflix martial arts genre. I was excited to finally get to see this and was disappointed to discover this was a parody. The action scenes did have a few nice sequences by Li, but a lot of it is blue screen and a CGI mess. Overall, I recommend skipping this. "Our lead actress is a murderer." Grade: F
Kevin Robbins
½
This isn't The Raid 2. End of review. No really, that's it. Actually it's really not. You know it's a sad day in the martial arts world when Jet Li can't even do most of his own stunts/fighting anymore. I'm not as familiar with Jet Li's past work as I am with Jackie Chan's, but I'm imagining that Jet must be pretty broken down from putting his body through punishment. Maybe that's not it and maybe he genuinely didn't want to do much of it, but I sincerely doubt that. But I digress, this film isn't particularly good, not to mention the fact that Jet Li is mostly a supporting character and the young cop and his superior are the real focus of the film. Didn't really have a problem with this because Zhang Wen is appropriately goofy enough to make Li's absence not as much of a disappointment. With that said, this film isn't exactly great. It doesn't take itself seriously and it has some ridiculously absurd action sequences, but it just doesn't really come together. The plot is a little preposterous and, quite frankly, and I realize it isn't fair to this movie, I've just been spoiled by the fighting in The Raid 2, so this doesn't even come close to that. It's about as close to it as the earth is to the sun. And if it got close to the sun, it simply would disintegrate since it doesn't have the necessary equipment to compete with such a powerful force, and will likely never even come close to developing the equipment that is essential. That's how far low down the line it actually is. Personally, I don't mind the wirework because Hero and Crouching Tiger, Hidden Dragon used this technique perfectly, but in here it just didn't really do it for me. The action scenes are poorly edited on top of all that, so it's really hard to come up with one of the fight scenes that actually stands out. It's just a mess. The scripting is a little terrible, but the leads' chemistry sort of alleviates that for a bit. Not that they're great, because they're slightly below average at best, but they did a good job at slightly elevating the material. Some ridiculously stupid plot holes are also in there. Basically the person who killed Liu's boyfriends was her uncle. If Liu didn't get married before 30, her uncle would inherit a fortune that her father left her. Here's the thing, the uncle has pretended to be paralyzed for three years, giving him the perfect alibi as nobody would suspect of him. The young cop finds this out, through some convoluted bullshit, and goes to the hospital and actually, get this, tickles the uncle's foot, trying to get him to show that he's not actually paralyzed. Think about that, THREE years and this cop is the first person to try this? Doing something physical to see if the person has any sensation in their lower body. THREE GODDAMN YEARS. Nobody bothered to push a needle into the skin, which is what doctors do, in order to see if he reacted. NOBODY?!!?!?!?! Seriously...and the movie does it so sneakily too, hoping that you wouldn't noticed the absolute ridiculousness of it all. It didn't work assholes! And the reveal of how he killed all of the boyfriends leads to an unintentionally funny moment. So one of the boyfriends was an actor, and he was shooting a scene where he had to jump out of an actual airplane. So, once you see the reveal, you see the uncle is calmly standing behind the cast and crew where he then does his thing. It was absolutely ridiculous. Why would they even allow someone who wasn't part of the crew ON to the plane as part of the shoot. WHY?!?!?!??!? This movie has some really stupid shit going on. Ridiculous and preposterous. I dislike this movie more now than I did when I watched it. I had thought about all these things I just mentioned, but going over it has added some some vitriol to my words. Just terrible stuff, some decent moments, but overall this is a really bad movie.
Jesse Ortega
Super Reviewer
Jet Li stars....wait no, more like cameos in this weirdly slapstick and horribly executed action(?) movie. not that good...just skip this too
Bill Regan
Bu er shen tan (Badges of Fury) Quotes
There are no approved quotes yet for this movie.
Discussion Forum
Discuss Bu er shen tan (Badges of Fury) on our Movie forum!