Buck Wild
(2014)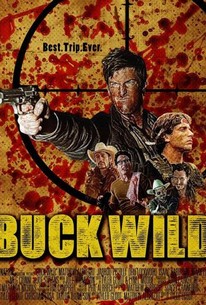 AUDIENCE SCORE
Critic Consensus: No consensus yet.
Movie Info
Buck Wild is a tongue-in-cheek adventure that turns the buddy comedy upside down while tearing zombies inside out! Craig Thompson's idyllic hunting trip with his two buddies and unstable cousin is wrecked after hearing that his fiancée and best man-to-be have been cavorting behind his back. To make matters worse, Craig's cousin appears to be on the verge of a murderous rampage, while a rapidly spreading Chupacabra virus is transforming locals into the undead. After taking drastic measures to protect themselves, the boys must put aside their differences to survive an insidious hillbilly gang and impending zombie melee. Things are about to get Buck Wild! (c) Bloody Disgusting
Critic Reviews for Buck Wild
There are no critic reviews yet for Buck Wild. Keep checking Rotten Tomatoes for updates!
Audience Reviews for Buck Wild
½
Not a half bad movie to be honest. Out of this and Stalled, I'd say that Stalled is slightly better than this one. Though, out of the two, this is definitely the more consistently comedic of the two. It's not a great movie, by any means, it's not even a good one, but I do think the film has a solid enough cast, for a low-budget horror film. Not that the low-budget should mean that the cast isn't good, but you know how it is in horror films. The film doesn't really do anything unique with the zombie genre, it's fairly straightforward and predictable, but it's a perfectly decent little movie with some funny moments. The funniest bit would definitely have to be when Craig and Jerry get into the argument about The Godfather Part III. These motherfuckers have a moral dilemma about what to do with the zombie they took to the cabin, one of their other friends that got infected, and they get into an argument, that ends up physical, about whether or not The Godfather Part III sucked. It was honestly absurd, since I wasn't actually expecting it at all, but I thought it was quite a funny scene. There's also the running gag of one of the characters being naked, or half-naked rather, and zombies and other people ripping off his clothing all the time. It's not great, but it works in small doses. There's not that much in the way of gore, but the movie is definitely elevated by a fun cast. I do think, however, that the film has some definite pacing issues. Like everything with Jerry and Tom before they get to the cabin for the final 'showdown' is a little bit laborious to get through. Craig being stuck in the cabin with Lance is also not that interesting, to me. I mean there's some real funny commercials/TV series they show snippets of for color blindness and a noose for the suicidal, really, that are some of the other comedic highlights of the film. But the movie definitely drags a bit, because I think this is an 80-minute movie stretched out to 90 minutes. It might not seem that bad, but those ten additional minutes absolutely slow the movie down. This movie reminds me of other low-budget zombie films like A Little Bit Zombie and there was another one whose name I cannot remember, but both those films were considerably better than this one, especially the former, which was a really damn fun film to watch. Not what I would call a good movie, but I definitely think that it overachieves. It's got a solid cast and a fun tone to carry it through its flaws. I mean they're still noticeable, and they do end up hurting the final product, but it's not like it kills the movie dead, pardon the pun. With that said, this is a decent movie at best. I wouldn't recommend it, but you can do far, far worse. Worth a watch if you have nothing else to do and have seen next to every horror movie that Netflix has available.
Jesse Ortega
Super Reviewer
Buck Wild Quotes
There are no approved quotes yet for this movie.
Discussion Forum
Discuss Buck Wild on our Movie forum!