Bugs! (Bugs! 3D) (Bugs! A Rainforest Adventure)
(2003)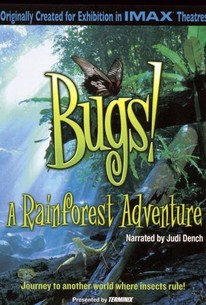 Bugs! (Bugs! 3D) (Bugs! A Rainforest Adventure) Photos
Movie Info
Bugs! is a live-action 40-minute nature documentary filmed in the large IMAX format in 3-D. Shot on-location in the jungles of Borneo, the film follows the life cycles of the caterpillar known as Papilio and the praying mantis known as Hierodula. As a caterpillar, Papilio dines on leaves, builds a cocoon, and becomes a butterfly before searching for a mate and laying eggs. As a butterfly, she survives by drinking the nectar from flowers. Meanwhile Hierodula catches flies for dinner, sheds his outer layer, and mates with a female mantis twice his size. Also includes large-format footage of other creatures, such as beetles, scorpions, tarantulas, frogs, and bats. Narrated by Dame Judi Dench.
Rating:
NR
Genre:
,
Directed By:
Written By:
In Theaters:
On DVD:
Runtime:
Studio:
Watch it now
Cast
Critic Reviews for Bugs! (Bugs! 3D) (Bugs! A Rainforest Adventure)
Audience Reviews for Bugs! (Bugs! 3D) (Bugs! A Rainforest Adventure)
½
For all my reviews visit my website idacashmansmoviereviews.webs.com Please note that the rating above might not accurately reflect my thoughts, you will see a rating sentence at the end of the review. A Beautiful telling of a Bug's Life (no not the movie.) Bugs are BUGS. BUGS ARE BUGS. BUUUUGSSSS. Even for one as I who is afraid of Bugs in the unnecessary respect, really loved this movie. It was absolutely beautiful. We were attached to the characters, and that's all they were, characters. Not actors, just characters. It was a DOCUMENTARY AND I'M ATTACHED TO THE CHARACTERS. That is impossible to pull a feet. Especially with such creatures as BUGS. BUGS. BUUUGSSS. Now, of course you may be wondering "what about the 3-D Effect?" It was sometimes a little worse and sometimes a little better than the best 3-D I've seen, however this was made 7 years before such. So it's extremely groundbreaking. And the only important 2003 movie I've reviewed during this summer. I think part of the reason why I'm so attached to the bugs are because of the narrator. She is absolutely perfect for this role. Usually you either get that over-the-top MonsterQuest voice, or just a monotone voice, or something that's just lame. But this narrator is perfect! Absolutely amazing. She is friendly, and knowledgeable. We've all heard the facts before, and we know what the bugs haft to do, but the narrator makes it all exciting and dramatic. It's a beautiful movie as well, the scenery and the cinematography is top notch. Especially considering that they had to use two 3-D IMAX cameras using like 300 roles of film right next to each other to film every moment without a second take. IT'S FLIPPING IMPRESSIVE. This must be the hardest genre of film to make, IMAX Documentaries in 3-D. You may think this movie is for kids from the title and it's arrangement in the DVD store. It's not. Trust me, it's absolutely astonishing. The Rating? I'm thinking 4.4/5
Da Cashman
Discussion Forum
Discuss Bugs! (Bugs! 3D) (Bugs! A Rainforest Adventure) on our Movie forum!
News & Features