A Bug's Life
(1998)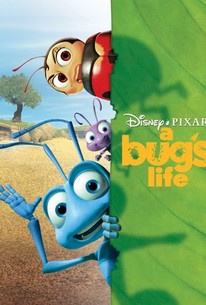 TOMATOMETER
AUDIENCE SCORE
Critic Consensus: A Bug's Life is a rousing adventure that blends animated thrills with witty dialogue and memorable characters - and another smashing early success for Pixar.
Movie Info
John Lasseter, director of Pixar's movie phenomenon Toy Story, has set new standards in computer animation with this effort, another Disney-released children's epic entitled A Bug's Life. Blending classic Disney storytelling characters and the mysterious underground world of bugs, Lasseter has created a film that can be enjoyed by all audiences, and another franchise in the process. A Bug's Life is a computerized retelling of the Aesop fable The Ant and the Grasshopper, made as a cartoon-short by the one-and-only, Walt Disney, in the mid-'30s. However, A Bug's Life has modernized the story with many new twists and celebrity voices. The story focuses on a colony of ants who seasonally gather food for themselves and a wild gang of rowdy grasshoppers. When bumbling worker ant Flik (David Foley) destroys the food supply, the angry grasshoppers, lead by the maniacally warped Hopper (Kevin Spacey), threaten to kill the ants if they don't produce a new supply of food by the time they return -- an impossible feat. Flik leaves the anthill in search of help in the form of bigger bugs, and to wage war against the grasshoppers. What he doesn't know is he has actually discovered a group of down-on-their-luck traveling circus insects in need of a job. When the ants realize that their heroes are really circus performers (and the circus bugs realize these grasshoppers are really big and mean), the situation goes from bad to worse. Ultimately, the ants use their large numbers to overcome the grasshoppers. ~ Chris Gore, Rovi
People Who Like this movie also like
News & Interviews for A Bug's Life
Critic Reviews for A Bug's Life
Audience Reviews for A Bug's Life
for one of the earliest Pixar films it really doesn't show because the art is still fantastic, and the drama and comedy of this movie was fantastic and as a little kid this was my favorite movie its definitely not anymore but it still is fun to watch
Michael Edwards
Super Reviewer
It may not be the best Pixar film out there, without the feel-good story that most of the films in the Disney/Pixar universe have, but "A Bug's Life" is a real treat visually and character-wise. It is a very simple story about how one ant, mistreated and misunderstood, becomes the life of his colony, when a bunch of mistakes take him on an adventure to find Warrior bugs, in order to stop an infestation of Grasshoppers on their island. It is basic, and kind of ridiculous, but the heart is all there and you can feel for the characters by the end. I highly enjoy this film and I will continue watching it for years to come.
A Bug's Life is a fantastic piece of animation and storytelling, and is just pure imagination for any kid. Pixar has lived up to the fantastic Toy Story with their second film and it truly lives up to the expectations. I remember when I was a kid and I watched this film non-stop, I mean its hilarious, intense, and overall is just great storytelling. The characters stay in you head with the variety of bugs, and each one has a different personality that the writers all creatively give. I have always loved Flik, he was hilarious when I was a kid and his laugh (the laugh of Dave Foley) always put a smile on my face. The ants represent oppression and Flik the one who wants to defend them, and this makes him quite the hero. Dave Foley, Kevin Spacey, Julia-Louise Dreyfuss, Dennis Leary, and everyone else provides their voices and perfectly fit each memorable and cool character. The animation is also still fun to this day, all the colors and environment really live up to the standards of Pixar. This had competition with the Dreamworks film Antz, and in my opinion, this film kicks Antz right in the buttocks. A Bug's Life is a childhood favorite of mine, and is one of the films that live in the hearts of hundreds of imaginative adults and kids.
Jim Careter
Super Reviewer
A Bug's Life Quotes
| | |
| --- | --- |
| Hopper: | You little termites!! I gave you a second chance, and this is all I get! |
| Princess Atta: | But, Hopper, we ran out of time! |
| Hopper: | Have you been playing all summer? You think this is a game? |
| Princess Atta: | No, no please don't do this. |
| Hopper: | Well, get what? You just lost! Not one ant sleeps until we get every scrap of food, on this island! |
| Molt: | Just do what he says. You don't want to make him mad, believe me. |
| Hopper: | No, no, no. You're staying with me your highness. |
| | |
| --- | --- |
| Hopper: | Do I look stupid to you? Let's just think logically shall we? Let's just think about it for a second. If it was up there would I be coming down to your level looking for it? Why am I even talking to you? You're not the queen, you don't even smell like the queen. |
| | |
| --- | --- |
| Hopper: | So, where is it? Where's my food! |
| Princess Atta: | Isn't it up...there? |