Bulgasari
(1985)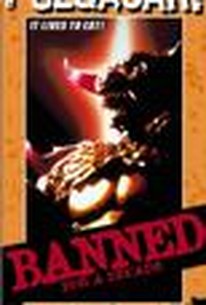 AUDIENCE SCORE
Critic Consensus: No consensus yet.
Movie Info
Set in feudal times, this bizarre monster picture opens with an ongoing struggle between the minions of an evil king and a group of beleaguered peasants; the malevolent monarch steals the iron cooking pots and farming implements from the working-class folk, and begins to incarcerate and execute their leaders. In response, a dying old prisoner prays to the gods to bring his people deliverance via the mythical being of the title. The Pulgasari soon arrives, initially as a horned and scaled, dragon-like creature of pint-sized stature (played by an actor in a clever costume). Though the beast seems diminutive and harmless enough to invite the description of "cute" from an onlooker, it begins devouring every piece of iron in sight (including sewing needles and then swords) - and as it does, it grows meteorically and eventually assumes Godzilla-like proportions, poised to rampage the aristocracy. Though it has a look virtually indistinguishable from Japanese monster pictures of the '50s, '60s and '70s, Pulgasari in fact emerged from North Korea under the supervision of dictator Kim Jong-Il. Acclaimed director Shin Sang-ok and his wife had been kidnapped from South Korea and imprisoned in the North for five years by Jong-Il's men. In 1983, however, Jong-il pulled Sang-ok out of jail and commissioned him to direct propaganda movies. The despot apparently wanted to use Pulgasari to spread collectivist ideology to the world at the height of the Cold War. Instead - and for reasons that are not entirely clear, but that may have to do with the film's blatant kitschiness - this opus was widely banned and went unseen in North or South Korea for a decade, until it eventually arrived on video and became something of a cult favorite among sci-fi and fantasy aficionados. Meanwhile, Sang-ok and his wife found political asylum while attending the 1986 Venice Film Festival as representatives of North Korea, and spent the next 20 years living in exile in the United States, where Sang-ok produced several of the 3 Ninjas movies. He died in early 2006. ~ Nathan Southern, Rovi
Rating:
NR
Genre:
, , , ,
Directed By:
Written By:
On DVD:
Runtime:
Critic Reviews for Bulgasari
All Critics (3) | Fresh (3) | Rotten (0)
What or who is this giant idiotic creature supposed to represent? What political message can be dug out from the rubble of this weird, bad, gloriously messed-up exercise in socialist filmmaking?

Audience Reviews for Bulgasari
Pulgasari is a solid kaiju flick that is about the same quality as Godzilla 2014. Positives include an original monster design, good physical effects, good performances, a very deep plot, and a rather interesting backstory. Negatives include uneven special effects and a terrible soundtrack. Despite this, it's worth a watch.
TheRantingAnchor Reviews
½
Uneven, yet enjoyable. It can't seem to decide if it wants to be a comedy or a serious film. The monster is a bit goofy, but it's still neat. The plot is good, the characters are decent, and the ending is satisfying. Confusing moments, but overall, it's an interesting monster film.
Wes Shad
½
In a film burdened by endless scenes of crying peasants and Ewok-style human combat, it is the presence of Pulgasari, the metal mastdodon, that makes this film tolerable. For a life-long kaiju eiga fan like myself, it's a nice treat. For anyone else, it's the last movie you would ever want to see.
Daniel Taulbee
Bulgasari Quotes
There are no approved quotes yet for this movie.