Bulldog Drummond Comes Back
(1937)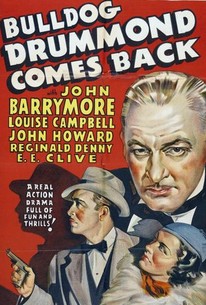 AUDIENCE SCORE
Critic Consensus: No consensus yet.
Movie Info
A detective's fiancee is captured by a couple of baddies who are planning a trap for him. Fortunately, he is aided by his colonel friend and the two work together to seek revenge.
Rating:
NR
Genre:
, ,
Directed By:
Written By:
In Theaters:
On DVD:
Runtime:
Studio:
Criterion Collection
Critic Reviews for Bulldog Drummond Comes Back
There are no critic reviews yet for Bulldog Drummond Comes Back. Keep checking Rotten Tomatoes for updates!
Audience Reviews for Bulldog Drummond Comes Back
½
Bulldog Drummond Comes Back (Louis King, 1937) I can't find any evidence whatsoever that I reviewed Bulldog Drummond Comes Back, the first of seven Bulldog Drummond films featuring John Hammond in the title role, anywhere, though I know I must have; I distinctly remember writing the line "sensibly, Hammond jumped ship to accept a role in The Philadelphia Story". But I can't find the review anywhere, so I'll write another one. Oddly, Hammond's seven-film stretch as Drummond was not a reign; Hammond played Bulldog Drummond seven times between 1937 and 1939, but was not the only actor to do so during that period; both John Lodge (in Bulldog Drummond at Bay) and Ray Milland (in Bulldog Drummond Escapes) took turns as the pulp-fiction private eye. (If Milland's name causes raised eyebrows, Walter Pidgeon also took on the role for Calling Bulldog Drummond in 1951.) much of the modern criticism of the film seems to stem from the casting of Hammond, but given that he stuck around for six more movies, someone must have thought he was okay in the role. I didn't mind him all that much, truth be told; there are far more problems with the script and the budget here than there are with Hammond. Plot: Bulldog Drummond is about to get hitched? Say it ain't so! But yes, everyone's favorite cross between Nick Charles and Nick Carter (the spy, not the singer) is poised to wed Phyllis Clavering (Louise Campbell, whose three Drummond film appearances are by far the most prominent in her fourteen-film career). Until, that is, she's kidnapped by a bunch of durned furriners. (The Bulldog Drummond books are notable for their racism; the movies didn't do much to cover that up.) And thus, Drummond and his longtime pal Colonel Neilson (John Barrymore, slumming it) are off to rescue the damsel in distress from the durned furriners. It's a pretty darned good cast (I failed to mention Reginald Denny as a tagalong-think Constantine's cab-driver pal, here, whose name currently escapes me-and the incomparable E. E. Clive as Tenney, Drummond's butler, who does what all good butlers should: play the straight man), and they do the best with what they're given. Problem is, what they're given isn't much. Writer Edward T. Lowe and director Louis King were both silent-film hacks who came up the hard way, Lowe in mysteries and King in potboiler westerns of the Lone Star variety. (Oddly, both are best remembered for their work in the Charlie Chan series today, King for Charlie Chan in Egypt and Lowe for Charlie Chan at the Racetrack, but at no point in the franchise did the two cross paths.) While the crossing of those two genres, however ghostly it may be, in a pulp action film does lend it a certain air one doesn't really expect to find in a pulp action film, there's not nearly enough of that atmosphere to make it distinctive enough to do even the slightest patch job over the plot holes and other silliness. Still, if you're in the mood for a turn-your-brain-off action picture and Schwarzenegger never did it for you, the Bulldog Drummond films are only slightly politically incorrect (compared to the books, anyway), have a good amount of witty patter, and are only about an hour long apiece; you could do better, but you could do a lot worse. ** 1/2
Robert Beveridge
½
Not a bad little mystery, but the DVD is practically unwatchable because of the terrible sound and picture. I would expect a better restoration from a movie from the late 30s.
Mara Barker
½
As adventurer Hugh 'Bulldog' Drummond (Howard) is preparing to marry the love of his life, Phyllis Clavering (Campbell), his past comes back to haunt him in a major way. Phyllis is kidnapped by Valdin and Soldanis (Naish and Freeman), a sinister pair of characters with very personal reasons for wanting to torment Drummond. As he is drawn into a deadly game of riddles and clues where Clavering's life is the prize, he calls upon his friend Algy (Denny) and loyal manservant Tenny (Clive) for help, and to keep Scotland Yard's Colonel Nielsen (Barrymore) from accidentially causing Clavering's death. "Bulldog Drummond Comes Back" is the weakest of the Paramount-produced Bulldog Drummond films, but not through any fault of the actors. Every performer featured is excellent and they play their roles with great style and good humor or deadly menace (depending on what side of the Good/Evil line the characters fall on). The problem here is the script... the situations presented never seems believable or sensible, even when viewed through the screwy lense that captures the world of Hugh Drummond and his pals. As a result, everything seems frivolous and pointless. Still, the film is great fun to watch. With John Howard replacing Ray Milland in the role of Drummond, the energy and charm of the character is ratcheted up several notches, bringing a rapidfire pace to the film that will be a hallmark of the series for the six. E.E. Clive also comes fully into his own as Tenny in this film, establishing a scene-stealing dry wit that gives rise to some of this film's funniest moments. He also plays fabulously off the other actors, and he makes a much better on-sceen partner to Howard than he did to Milland. Louise Campbell, who takes over the role of Phyllis Clavering, is not quite as beautiful as Heather Angel, but, like Clive, she establishes the Phyllis Clavering character as she will appear in the future films--not quite as fully realized as Drummond and Tenny, but the foundation is put in place: As a spunky, self-reliant heroine who can give Dummond and the boys a run for their money. (And she does this while still remaining feminine and [i]mostly[/i] proper. As one of the original "spunky heroines", Clavering is an interesting and fun character.) Barrymore's first outing as Colonel Nielsen is greatly entertaining, although a bit out of character. His persuit of Tenny and Algy in a series of provides as many highpoints to this episode as Tenny and Drummond's banterings. The rest of the cast performs expertly, as I mentioned above, with Naish being particularly strong in his first turn as a bad guy in the series (he shows up again in "Bulldog Drummond in Africa"). The great performances by the cast, and some snappy dialogue, almost lifts "Bulldog Drummond Comes Back" to the high-end of average... almost but not quite. It's still worth seeing, but I recommend getting via the "[url="http://www.amazon.com/gp/product/B0009O15P6?ie=UTF8&tag=stevemillesdo-20&linkCode=as2&camp=1789&creative=9325&creativeASIN=B0009O15P6"]Bulldog Drummond Double Feature #1[/url]" from Critic's Choice. With a [url="http://www.amazon.com/gp/product/B0009O15P6?ie=UTF8&tag=stevemillesdo-20&linkCode=as2&camp=1789&creative=9325&creativeASIN=B0009O15P6"]$6 price-tag at Amazon.com[/url] for both this film and Paramount's first Bulldog Drummond film ("Bulldog Drummond Escapes"), you'll find your money well-spent. Starring: John Howard, E.E. Clive, Louise Campbell, John Barrymore, Reginald Denny, J. Carroll Naish, and Helen Freeman Director: Louis King -- (Note: This is also the first of several Paramount Bulldog Drummond films with nonsensical titles. Where does Drummond return from in this film? Nowhere. But then there are no secret police present in "Bulldog Drummond's Secret Police" and it's unclear exactly what Drummond is supposed to be avenging in "Bulldog Drummond's Revenge.")
Steve Miller
Bulldog Drummond Comes Back Quotes
There are no approved quotes yet for this movie.