A Bullet for Sandoval (Los Desesperados)
(1969)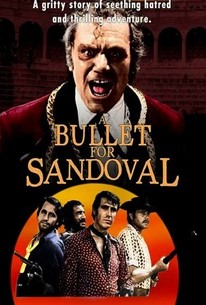 AUDIENCE SCORE
Critic Consensus: No consensus yet.
A Bullet for Sandoval (Los Desesperados) Videos
A Bullet for Sandoval (Los Desesperados) Photos
Movie Info
A Confederate deserter battles a Mexican bandit when the deserter's child dies for lack of milk. Warner (George Hilton) receives word his girlfriend is dying and about to give birth to the couple's child. The woman is the daughter of Don Pedro Sandoval (Ernest Borgnine), who hates all gringos and Warner in particular. Warner sets out for Juarez, but is captured by a Confederate unit and jailed. He escapes with two other men when they flee from their grave-digging detail. Warner arrives in Juarez where he finds his lover has died of cholera after having given birth to a baby boy. Sandoval gives the squalling, sickly infant to Warner, but the locals refuse to help Warner find milk for the baby. One callous rancher drops a bottle of milk rather than help the hated gringo. The baby dies, and Warner and his men join a group of outlaw monks led by the Padre (Leo Anchoriz). Warner seeks revenge on those who would not help his cause. Staying one step ahead of the cholera epidemic and the Confederates. Warner returns to the rancher who dropped the bottle and drowns him in a bucket of milk while the townsfolk watch in horror. The gang continues to rob and pillage, taking refuge in a bar and pawing at the saloon girls. Warner then sets his sights on Sandoval. He tracks the bandit to a bull ring where the two fight with knives for the inevitable showdown. The film is plagued by poor English dubbing. ~ Dan Pavlides, Rovi
Critic Reviews for A Bullet for Sandoval (Los Desesperados)
All Critics (2) | Fresh (0) | Rotten (2)
Director Julio Buchs... embraces the nihilism inherent in more extreme versions of the genre, right down to an epic massacre that climaxes the film.

It was pretty to look at, even if everything about the spaghetti western was as ugly as sin.

Ozus' World Movie Reviews
Audience Reviews for A Bullet for Sandoval (Los Desesperados)
Well this was a pleasant surprise. Though I like main Italian star George Hilton I wasn't expecting much when going into "A Bullet for Sandoval". I guess I've just been soured due to viewing a handful of dreadful spaghetti westerns prior to this. Not only did "Sandoval" end up being a damn fine Spaghetti Western, but also one of the best I have ever seen, even biting at the heels of the classic Leone "Man With No Name" trilogy. Yes, "Sandoval" is that damn good. Ever dependable George Hilton plays Warner, a brave soldier for the confederates that abandons his post when he learns his old flame is giving birth to his child, a child he had no previous knowledge about. Going AWOL he arrives on her father's ranch to marry her but learns she has passed away during birth. Her father Sandoval, not too keen that this low life knocked-up his daughter, treats Warner like the shit on the heal of his boot and forces him off his property with his bastard son. While trying to raise the baby it comes down with a fever and dies so Warner snaps, gets a gang together and starts terrorizing the countryside before setting his sights on vengeance. What I love about this film is it plays out like a complex Greek tragedy. I really felt pity for Warner as he truly wanted to be a good husband and father. Everything was against him from the Army, to his lover's father, to people who wouldn't help his dying child. He truly is a good man broke down and turned bad. A tragic figure that can't help but suck you in and George Hilton plays is perfectly. Classic American actor Ernest Borgnine is also a sublime ying to Hilton's yang as he is a truly detestable hothead fueling the fire with in Warner. Spanish director Julio Buchs keeps the pace moving tightly and loads the film up with memorable visuals, especially the final shootout in a bull fighting arena that is eerily similar to the American western "The Wild Bunch". Oddly enough cult director Lucio Fulci is sourced as co-director on many releases of this film but from my research this is entirely false, with star George Hilton even stating this in interviews. Sorry Fulci fans... this isn't one of the late gore godfather's wonderful westerns. "A Bullet for Sandoval" is a must see for fans of Spaghetti Westerns and is one of the best this hardcore fan has ever seen, and trust me, I've seen a lot (I own nearly a hundred on DVD). The Greek tragedy plot mixed with two great leads sucks the viewer in and the picture perfect ending will make sure this western will stay with you for a while. The DVD release I have from VCI Entertainment in a double feature with "Any Gun Can Play" is odd. On a standard television "Any Gun Can Play" looks fine but "A Bullet for Sandoval" looks scrunched. Thankfully watching it on my widescreen TV in the living room I can get around this error by adjusting the picture mode. Just a word of warning to any potential buyers who only have a standard television.
Eric Reifschneider
Sad for what it could have been- there's the kernel of a really powerful and emotionally resonant western-revenge film. It isn't that, instead it's a cheesy spaghetti-western punctuated by a one-note Ernest Borgnine turn and some hammy acting, even from one guy with only one eye! But once one accepts how its kind of lame, it can be a lot of fun, right down to the lead character's convenient arm wound being easily handled by an arm-sling and little to no blood, and the big four gunmen in Morton's gang all in the same step as they walk forward to their big climax. One more note: DO NOT GET THIS THINKING IT'S LUCIO FUCLI! I was in part fooled to watch this thinking Fulci had at least co-director credit. I even thought his lack of credit in the film meant maybe he was uncredited, but according to IMDb trivia it's a mistake, confirmed by the actors, that he was credited in some press... such as NETFLIX! Argh. Sadly I can't say how this posits in the rest of Julio Buchs cannon of work as it's just.. an average spaghetti western, heavy on gunplay and full of ham and bacon on the acting.
Jack Gattanella
A Bullet for Sandoval (Los Desesperados) Quotes
There are no approved quotes yet for this movie.
Discussion Forum
Discuss A Bullet for Sandoval (Los Desesperados) on our Movie forum!