Shinkansen daibakuha (Bullet Train)
(1975)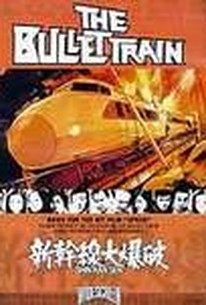 AUDIENCE SCORE
Critic Consensus: No consensus yet.
Movie Info
The idea for the blockbuster American film Speed didn't come out of thin air, as evidenced by this Japanese predecessor. A crazed man (Ken Takakura) has deposited an explosive device on a train that will detonate if the train's speed dips below 80 km/h, and issues a warning that he'll manually set it off if he doesn't get what he wants. As authorities try to track down the elusive mastermind, the train conductor, Aoki (Sonny Chiba), must instill a sense of security in his passengers until he can find the bomb.
Rating:
R
Genre:
, ,
Directed By:
In Theaters:
On DVD:
Runtime:
Critic Reviews for Shinkansen daibakuha (Bullet Train)
There are no critic reviews yet for Shinkansen daibakuha (Bullet Train). Keep checking Rotten Tomatoes for updates!
Audience Reviews for Shinkansen daibakuha (Bullet Train)
½
I went into this film expecting the normal run of the mill Sonny Chiba film, with lots of karate and ass kicking, but I instead got a disaster film in which my badass lead plays a tense train conductor and it just wasn't what I was looking for. Worth a look if you know what you're getting into I suppose, as it's not a BAD movie, it just wasn't what I wanted.
Bill Bryant
½
Something real interesting is going on in here and I want in on it A Japanese bullet train has been loaded with a dynamite bomb with a timer that will cause it to explode if the train reaches a speed below 80 mph (I could have the speed measurement wrong). Because of the speed of the train, no one can come on or off the train and the train will have to be cautious when driving through cities until someone can figure out how to locate and disarm the bomb. "It's turning out to be a real rotten little deal." Junya Sato, director of Lost in the Wilderness, Dream of Russia, Golgo 13, The Private Police, The Ando File, The True Account of Ginza Tortures, and Never Give Up, delivers Bullet Train. The storyline for this picture will remind viewers of a cross between Pelham One Two Three and Speed. The acting is surprisingly solid and the cast includes Sonny Chiba (in a very limited role), Ken Takakura (Black Rain), Kei Yamamoto (Premonition), Eijo Go (The Executioner), Yumiko Fujita (Time and Tide), Etsuko Shihomi (Karate Bear Fighter and The Bodyguard), and Fumio Watanabe (Scorpion: Female Prisoner Cage #41). "The bomber will take the money and let the train explode anyway?" While this movie is part of the "Kill Chiba" collection, I hardly consider this a Chiba picture. He barely appears in this film at all; however, the villain delivers a solid performance and makes up for a lack of Chiba. The ultimate plot and sub plots make the film worthwhile. I will say the film is a little slow and does not come across as dramatic as the director may have intended, but I still found this film entertaining. "I can take a lot more than you can ever give out." Grade: B-
Kevin Robbins
½
The Bullet Train is certainly more nuanced than the other Sonny Chiba movies that I have grown accustomed to watching. Bad guys aren't caricatures and moral decisions are agonized over by the good guys. That said, on the whole, The Bullet Train left me unimpressed.
Zane Umsted
Shinkansen daibakuha (Bullet Train) Quotes
There are no approved quotes yet for this movie.
Discussion Forum
Discuss Shinkansen daibakuha (Bullet Train) on our Movie forum!