Rundskop (Bullhead)
(2012)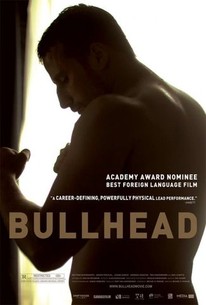 Rundskop (Bullhead) Videos
Rundskop (Bullhead) Photos
Movie Info
Domineering cattle farmer Jacky Vanmarsenille (Matthias Schoenaerts), constantly pumped on steroids and hormones, initiates a shady deal with a notorious mafioso meat trader. When an investigating federal agent is assassinated and a woman from his traumatic past resurfaces, Jacky must confront his demons and face the far-reaching consequences of his decisions. -- (C) Drafthouse Films
News & Interviews for Rundskop (Bullhead)
Critic Reviews for Rundskop (Bullhead)
Audience Reviews for Rundskop (Bullhead)
½
The Belgian film "Bullhead" stars Matthias Schoenaerts as a cattle farmer who traffics in black-market steroids to fatten his livestock and himself. Over time, we learn why he's fixated on developing his musculature. I won't give away the details. I'll just say that it stems from an event in his childhood and that this event is horrifying. The film was nominated for an Oscar as Best Foreign-Language Film of 2011. (It lost to Iran's "A Separation.") "Bullhead" is effective and haunting, and Schoenaerts' performance is magnetic. But it has a number of weak aspects. First and foremost, its story is all over the place. There are about six different stories chaotically thrown together. If the film had focused more on the Schoenaerts character, it would have been greatly improved. Instead, first-time writer/director Michael Roskam introduces us to just about everyone in the man's village, including the boy who witnessed Schoenaerts' childhood atrocity and is now secretly in love with him. And the sister of the perpetrator, whom Schoenaerts has secretly loved for 20 years. Plus about 15 men with whom Schoenaerts is involved in the black market. Plus several police officers closing in on Schoenaerts and his fellow farmers in an attempt to crack the black market. Everything but the kitchen sink is thrown in. I often complain about thin stories in contemporary cinema. Almost as frustrating is when a filmmaker has too many story ideas and cannot edit himself. Someone has to teach Roskam how to narrow the focus of his stories so his audience is less dizzy and confused. Focus and prioritization is required during the writing of the screenplay. It also must happen in the editing booth when the shooting is done. Roskam doesn't know how to edit there either. For this film to have a 125-minute running time is ridiculous. Roskam definitely had 90 minutes of good story-telling in the footage he shot. He couldn't find a way to cut away the excess to spotlight those 90 choice minutes. I could see many viewers tuning out at 100 minutes, just from exhaustion. There's nothing more annoying than two hours of meandering footage. However, there are some amazing moments in "Bullhead," and it's nice to see a young male filmmaker turning his attention to the remarkable fixation on musculature among males today. Is it a form of self-worship? Body worship? When did this fascination with male muscles begin? In the 1980s? That appears to be when it started skyrocketing as a cultural phenomenon. It's quite astonishing and appears to be global. What does it say about the male psyche today? I appreciate very much that Roskam is one of the few filmmakers venturing into this thematic territory. He has a lot of talent. Did he deserve an Oscar nomination on his first film? I would say no. I don't know who was responsible for that, but I think it was entirely too generous. But if Roskam gets better at editing his own ideas and his own footage, he could turn into a major filmmaker. He's already responsible for turning Schoenaerts into a global movie star. (Schoenaerts currently stars in "Rust and Bone" with Marion Cotillard.) What's next for Roskam? I'm eager to watch and find out.
William Dunmyer
Super Reviewer
Fresh, beautifully executed, Matthias Schoenaerts is amazing. If the Academy hadn't made a political pick for the Oscar in 2012, this would have won!
Debbie Elbin
Super Reviewer
½
"Sometimes in a man's life stuff happens that makes everyone go quiet" A young cattle farmer is approached by a veterinarian to make a deal with a notorious beef trader.
REVIEW
Michaël R. Roskam's finely directed first feature is a character-driven and plot-driven drama that draws an incisive portrayal of a huge Limburgian man who has been marked for life by a terrible occurrence from the past that now confronts him and becomes even more upsetting. This unconventional tale of a Belgian underground crime syndicate that is shaken when a local policeman is killed, contains a wide range of rare characters and is both an atmospheric mystery and an internal study of character about friendship and the afflicting consequences of lost innocence. Finely photographed by cinematographer Nicolas Karakatsanis, this at times humorous, violent and well-paced thriller is reinforced by Matthias Schoenaerts' riveting acting performance in the leading role. Schoenaerts has a short fuse the entire film and you never know when he's going to explode. That's the beauty of his performance. He's so dangerous yet you can't help but feel sympathy for the guy. Schoenaerts is a ferocious powerhouse that chews you up and spits you out like the most devastating hurricane imaginable. An unsettling and engagingly narrated independent film which gained a nomination for Best Foreign Language Film at the 84th Academy Awards.
Lorenzo von Matterhorn
Super Reviewer
Rundskop (Bullhead) Quotes